Harvest of California's Wonderful pomegranate variety is well underway, with fruit available until at least late January.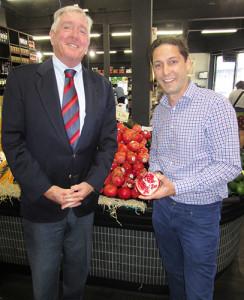 Sea freight arrivals have already commenced, offering even better price points for retailers and consumers. Increased volumes are expected from mid-November.
"Australia has become the fourth largest export market for Californian pomegranates," Pomegranate Council Manager Tom Tjerandsen said on a recent visit to Sydney and Melbourne.
"Shipments in 2014 exceeded 200,000 cartons [11.4kg], up 31 per cent on the previous year."
Despite the lower value of the Australian dollar, exporters were confident they would ship almost 200,000 cartons to Australia this season.
"Despite the four-year drought in California, pomegranates were better positioned than most other crops, as they were not big water users," Mr Tjerandsen said.
Fruit size was peaking at 24 count (114mm), one size smaller than last year, due to the drought and new plantings coming into production.
Educating consumers and retailers on how to easily open a pomegranate is the focus of the Australian marketing program, as well as promoting the fruit's versatility in summer salads, chicken and seafood dishes, desserts and breakfast cereals.