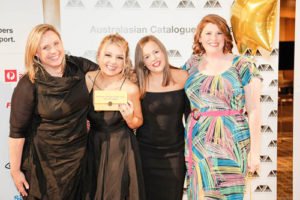 Woolworths and Dan Murphy's were big winners at the 25th Annual Australasian Catalogue Association (ACA) Awards last week.
Forty-seven awards were presented at the event, recognising expertise and excellence in catalogue and letterbox marketing.
Woolworths' liquor store brand Dan Murphy's was named Catalogue Retailer of the Year (distribution over 3.5 million) and also picked up awards in the liquor category (besting First Choice Liquor, Parafield Airport Liquor Store and Vintage Cellars), the campaign series category (with Dan Murphy's Buyer's Guides), and jointly won the Magalogues category (for its Cocktail Discovery Guide) with David Jones.
Woolworths came out triumphant in the supermarkets category against finalists ALDI, Ritchies and Coles.
"We are so excited to have won this category," Woolworths Advertising Manager Samantha Smith said. "Our catalogues play a vital role in our customer purchasing journey, so they are indispensable to us. It's great to see them recognised at the awards this year."
ACA CEO Kellie Northwood said: "In such a diverse industry, the traditional catalogue has been challenged and evolved through new creative, photography, paper, pagination, frequency, targeting and technologies. Understanding and celebrating our media channel is critical to its evolution."