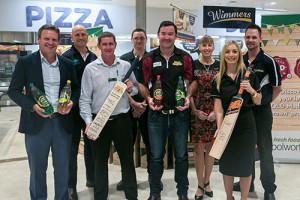 Sunshine Coast business Noosa Beverages initiated a sales challenge earlier this year in association with Woolworths to incentivise and support the sale of Wimmers Soft Drinks.
The program involved an in-store activation plan to reintroduce Wimmers Soft Drinks to Woolworths shoppers across Queensland. The best in-store theatre displays from all stores in the state were judged by Woolworths senior management, with the winning store receiving cricket bats signed by Australian Test cricket captain Steve Smith and the Queensland Bulls Master cricket team.
"The local joint focus between Wimmers and Woolworths definitely increases store engagement and many stores supported the sales challenge with some great off-location displays and the eye-catching Queensland business paraphernalia," Woolworths Queensland Local Sourcing Manager Tracey Worrall said.
She added that competition was particularly strong in the Brisbane and Sunshine Coast areas, with Jimmy Maher of the Queensland Bulls Masters presenting the award for the winning store in the Wimmers Sale Challenge to Woolworths Mount Gravatt.
Noosa Beverages has recently constructed a 9,000sqm facility on the site of the heritage-listed old CSR brickworks factory at Cooroy, in the Sunshine Coast hinterland. The company's owners, Peter Lavin and partners, built the facility in the belief that the business will be attractive for both domestic and international markets.
"We use traditional flavour essences, so our products taste the same as they always have," he said. "Many of our customers have grown up with Wimmers products, so that's important for us and something we value."
The Wimmers 1.25lt range of soft drinks is stocked in more than 200 Woolworths stores across the state.