Woolworths is opening a new multi-million-dollar online Customer Fulfilment Centre in Lidcombe (NSW).
The opening aims to serve the fast-growing demand for home delivery in western Sydney and is a timely decision ahead of the busy Christmas season.
The 15,000sqm site is equivalent to 12 Olympic swimming pools and is Woolworths' largest online hub in Australia and will create up to 900 new jobs for personal shoppers.
Woolworths Director of e-commerce, Annette Karantoni says that they are seeing more customers turn to online grocery delivery.
"To keep pace with demand, we're investing in new online infrastructure to offer our customers more delivery windows and an even more reliable service.
"This is particularly important as we head into Christmas, when customers are busy and looking for ways to reclaim time with their loved ones."
The Lidcombe fitout was completed by Australia's retail specialists, Mainbrace Constructions and created around 300 jobs during construction.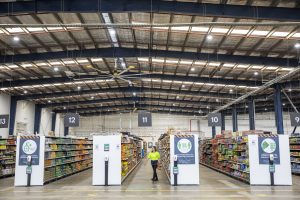 The purpose-built facility has wider aisles and more shelf space than a standard supermarket, allowing personal shoppers to handpick orders from a range of around 20,000 products quickly.
New South Wales Minister for Western Sydney, Stuart Ayres says, "The NSW Government is focused on driving private sector job creation as a critical part of our Covid-19 recovery strategy.
"This site is a terrific example, which will deliver a welcome boost to local employment with 900 new jobs in the heart of western Sydney."