Woolworths has gone digital with its Fresh Food Kids Discovery Tour.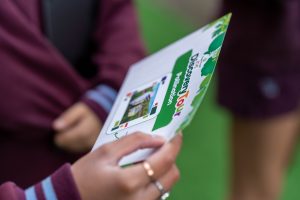 The retailer says the tour was the first national program of its kind when it began in 2018. To date, more than 260,000 Australian school and early learning centre students have participated in the in-store experience.
Now with a top-to-bottom redesign of the program, students will now be able to use immersive AR and VR activities to take a virtual tour of a Woolworths store.
Designed in collaboration with educators, food scientists and nutritionists, Woolworths says the program also allows students the ability to virtually step onto an Australian farm to learn how fresh food is grown and meet some of the farmers who supply fruit and vegetable to Woolworths stores across Australia.
Woolworths Chief Marketing Officer Andrew Hicks says the business is committed to helping families make healthier and easier decisions when it comes to their lifestyles.
"A big way we can do that is by educating younger Australians about where food comes from, the food production process, Aussie suppliers and growers, and the need to support a sustainable future," he says.
"Our new Fresh Food Kids Discovery Tour achieves all this using technology to create a fun learning experience.
"Taking the Fresh Food Kids Discovery Tours online also enables teachers to bring the curriculum virtually to life, even if students are learning from home.
"Young Aussies can discover the importance of how their fresh food makes it into our stores and helps them build a healthier relationship with fruits and vegetables."
Classroom kits
Similar to the in-store Fresh Food Kids Discovery Tours 'book a tour' program, schools interested in participating in the new digital program can request a free classroom kit. This contains all the materials and lesson plans required, along with access to a supporting Fresh Food Kids Discovery Tours app.
The roll out of the new digital program will start with years 5 and 6 and be available to Kindergarten to Year 4 from early 2022.
To find out more about Woolworths Fresh Food Kids Digital Discovery Tour program and how to request a classroom kit, visit woolworths.com.au/discoverytours.