In a first for an Australian supermarket, Woolworths Group aims to make all its home delivery trucks 100 per cent electric-powered by 2030, which will see more than 1000 EVs added to the nation's roads.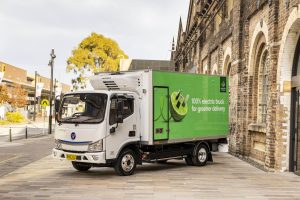 Woolworths Group has commenced the transition with the first of 27 new EVs, which will begin delivering groceries to Woolworths' Sydney customers over the next two months.
Woolworths home delivery fleet is currently made up of 1200 trucks and growing. It is anticipated that the very last combustion engine vehicle will join the home delivery fleet by 2027, as they are gradually decommissioned and replaced with EVs.
Woolworths Group CEO Brad Banducci says: "Our home delivery trucks are a familiar sight in neighbourhoods across Australia, and within the next seven years, we want to make every one of them electric, and free of fossil fuels.
"The case for a low carbon future has never been clearer and we're backing a better tomorrow for our communities and the planet by starting the transition now," he said.
"We're proud to be putting 27 new EVs on the road in the coming weeks – in one of the many ways we're working to make grocery shopping greener.
"Not only can we help make our suburban streets quieter and cleaner, but we hope to set an example for other businesses to support the growth of Australia's EV industry," Mr Banducci said.
All 27 of the new home delivery EVs will be based in Sydney, delivering groceries to customers across the CBD, Inner West, Sutherland Shire, St George region and Eastern Suburbs. At present, public EV infrastructure to support commercial fleets remains limited. The trucks will operate out of Woolworths' Customer Fulfilment Centres (CFC) in Mascot and Caringbah, which are dedicated to picking and packing the supermarket's online orders. The CFCs have installed new EV charging infrastructure in preparation.
Woolworths Group's new EVs consist of two models manufactured by Foton Motor and SAIC Motor, which both offer sufficient working range to complete daily metro home deliveries before returning to base to charge overnight. They are fitted with a new, state-of-the-art electric refrigeration system that runs off the vehicle's battery, ensuring groceries stay cold.
Woolworths Group will continue to increase its use of electric and low emissions freight vehicles across its Primary Connect supply chain logistics business. The business is currently operating three electric heavy rigid vehicles, as it trials emerging technology to help decarbonise its fleet in the long-term. At present, the technology and infrastructure to support the load intensity and distances of long-haul freight is still in its infancy.
"Woolworths Group also hopes to contribute to public infrastructure planning to ensure the right charging technology and locations are considered to meet the needs of electric metro fleets, as well as low emissions long-haul freighter trucks which will require accessible recharging points across regional Australia," the company said.
"Through the business' ongoing decarbonisation initiatives, by 2030 Woolworths Group intends to have reduced its overall operational transport emissions by around 60 per cent compared to today, and to have decomissioned more than 3000 internal combustion engine vehicles from its company-wide fleet."