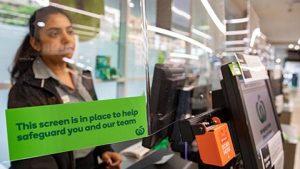 Woolworths will install protective plexiglass screens at the manned checkouts of each store across Australia in the coming weeks.
The first screens have already rolled out at Woolworths Town Hall and Kellyville North.
"Our stores remain open and we will continue to stand by the Australian community through this health crisis," says Woolworths Supermarkets Managing Director, Claire Peters.
"As our team members continue providing for the community, we will do everything necessary to uphold public health and safety in our stores."
"We know it's not always easy to maintain social distancing at our checkouts, so we've started installing plexiglass screens as an additional safeguard for our team members and customers."
Remember those pesky trailing communication cables? Not only were they often damaged or disconnected but they required frequent maintenance and were responsible for a lot of unexpected downtime.
Read More
Woolworths thanks their customers for their understanding as they work through challenging times.