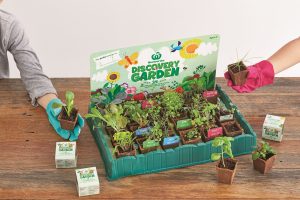 Launched this week, Woolworths' new community program, Woolworths Discovery Garden, is said to help Australian families grow their own fresh vegetables, herbs and flowers.
Woolworths customers can collect a seedling kit, with every $30 they spend in store or online, while stocks last.
The retailer is also giving away a bonus seedling kit when customers spend $15 on fresh fruit and veg in a $30 shop in-store. It says this is a further bid to get Australians incorporating more fresh fruits and vegies into their diet.
There are 24 different varieties of vegetable, herb and flower seeds to collect and grow, from thyme, basil and coriander through to kale, spinach and carrots; and violas and pansies. There is also a free interactive growth chart and learning book available in-store and online to support the growing journey.
Integrated campaign
Supporting the Woolworths Discovery Garden, an integrated multi-channel campaign will sprout to life on TV, radio, press, digital, and out of home.
Point of sale throughout Woolworths stores and inclusion of information on all you need to grow in catalogue and Fresh Magazine will also support the campaign.
To reflect the changing modern home setting, Woolworths has also integrated Google Home into the program to provide helpful tips and instructions to make it easier for customers to bring their Woolworths Discovery Garden to life.
The campaign aims to drive awareness of Woolworths Discovery Garden and how customers can learn about, and discover, the joy of growing their own food.
Woolworths Group Chief Marketing Officer Andrew Hicks says the community campaign is a natural next step for Woolworths and the team has been working for the last 12 months to bring this to life.
"As the fresh food people, we have a role to play to engage families and empower Aussies of all ages to understand how their food grows," he said.
"With Spring now beginning to bloom, we wanted to celebrate this perfect time for everyone to get outdoors and start growing which we have brought to life in the creative for the campaign. We can't wait to see our customers gardens flourish across Australia."