Woolworths has opened what is believed to be its most sustainable supermarket.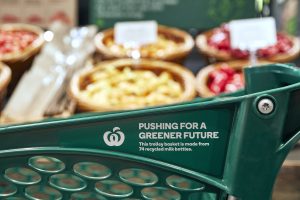 Located at the brand-new Burwood Brickworks Shopping Centre in east Melbourne, the new Woolworths store will operate using 100 per cent renewable energy.
"Woolworths Burwood Brickworks is the next step in our journey to create a neighbourhood food store, with sustainability and the needs of local customers at the heart of its design," Woolworths Supermarkets Managing Director Claire Peters said.
"As Australia's largest retailer, we recognise our responsibility to minimise our environmental footprint and are committed to playing our part in creating a greener, more sustainable future."
Look to support local manufacturers who have the innovation and design capability to accelerate your production rather than paying inflated international prices for your machinery.
Read More
Sustainability features
Woolworths Burwood Brickworks, according to Ms Peters, will incorporate a range of sustainability initiatives. These, she says, will aim to reduce the environmental impact of the store's operations and help customers live more sustainably.
Among these features are LED lights to reduce power usage and the application of fridge doors on all meat and dairy cases to prevent cold air spilling from the cases.
Natural refrigerant technology is being used for the store's chillers, freezers and hot tap water production, delivering what amounts to zero direct emissions. All the timber cladding used is sustainably sourced, too.
Customers will also be able to purchase reusable produce bags made from lightweight nylon to carry their fresh produce, and paper bags made from 80 per cent recycled paper to carry their shopping home.
"From store lighting and air-conditioning to food refrigeration and preparation, we have looked at all angles to see how we can build and run this store more sustainably," Ms Peters said.
"Woolworths Burwood Brickworks is the culmination of all our efforts to-date in one store.
"We will continue to trial initiatives that help us reduce our environmental impact and look forward to the feedback from our teams and customers as we do."
About Burwood Brickworks 
Burwood Brickworks is a mixed-use development incorporating a range of sustainability measures. This includes a large solar PV system and an embedded electricity network, achieving a 6 Star Green Star Design and As Built v1.1 (Design Rating) by the Green Building Council of Australia.
The retail centre at Burwood Brickworks is claimed to be on its way to be the world's most sustainable shopping centre with 13,000sqm of retail, including anchor tenants Woolworths, Dan Murphy's and Reading Cinemas.
Located 19km from Melbourne's CBD, Burwood Brickworks will be the home of what is said to be Australia's first rooftop farm in a shopping centre environment, Acre Farm & Eatery.