Woolworths Group's supply chain arm, Primary Connect, has commenced building works on its new Heathwood Distribution Centre (DC) in southeast Queensland.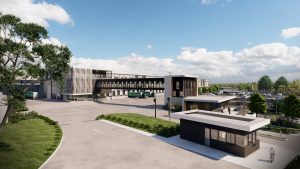 The 42,000sqm temperature controlled facility will enable fresher, faster and more efficient deliveries of around 4000 frozen and chilled products to more than 260 stores across Queensland and northern New South Wales.
The DC is set to open in the first half of 2022 and will be co-located with Woolworths' meat supplier Hilton Foods Australia's production facility. This will help take up to 390 truck movements off Brisbane roads each week by consolidating delivery loads to stores.
Primary Connect General Manager for Queensland Dale Acton said: "We're proud to be investing in our Queensland supply chain network for the benefit of our customers and store teams.
"This development will help us deliver better service and fresher food to our stores, take trucks off Brisbane's roads, and create exciting new career opportunities for Queenslanders. The extra delivery capacity enabled through the Heathwood DC will be key to supporting our continued growth in Queensland for many years to come.
"Over the next five years we plan to inject a total of $500 million into the Queensland economy across our store network and supply chain, ecommerce and shopping centre developments — creating more than 5000 new jobs."
The DC is being built by Vaughan Constructions and will create around 200 Queensland jobs throughout construction.
At full capacity, more than two million cartons a week will move through the Heathwood DC bringing customers chilled and frozen goods from more than 400 suppliers. The Heathwood DC is also targeting a Five Star Green Star rating from the Green Building Council of Australia, with a major solar panel system on the roof and charge points for electric trucks.
The $184m investment in the Heathwood DC is majority funded by LOGOS (property development costs of $148m), with Woolworths signing an initial 15-year lease on the site.
Logos Head of Australia and New Zealand Darren Searle said: "We're pleased to be commencing construction of the third facility at our $500m Heathwood Logistics Estate with our long-term partner Woolworths. The 42,000sqm facility will complete the 25 hectare Estate as a world class food distribution hub servicing Brisbane and the greater region alongside Asahi Beverages and Hilton Foods. We look forward to working with Woolworths, Brisbane City Council and Vaughan Constructions to deliver this Five Star Green Star facility."
In October 2020, Woolworths unveiled a $12m upgrade of its Townsville Regional DC – more than doubling its original footprint. It also operates the 92,000 sqm Brisbane Regional Distribution Centre at Larapinta to sort and deliver fresh and ambient goods to stores across the state.