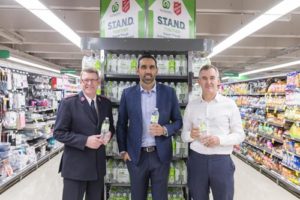 Australians needing support during times of natural disaster are set to benefit from a new long-term partnership between Woolworths and the Salvation Army.
The STAND ('Support through Australian natural disasters') partnership will raise funds to help the community with disaster preparedness, response, recovery and resilience. Funds will be raised through a combination of Woolworths corporate donations, customer donations and sales of six-packs of STAND bottled water.
"Many of our customers have benefited from the support of the Salvation Army during times of natural disaster, but they've also been incredibly generous in digging deep to support appeals to raise funds through our stores," Woolworths CEO and Woolworths Food Group Managing Director Brad Banducci said.
"This program will ensure the Salvation Army has a guaranteed level of funding each year from Woolworths, while our customers can also continue to play their part all year round through the purchase of the STAND water."
Look to support local manufacturers who have the innovation and design capability to accelerate your production rather than paying inflated international prices for your machinery.
Read More
One dollar from each six-pack of the 600ml STAND Australian spring water sold will go to the Salvation Army for natural-disaster relief. The water will be available in a majority of Woolworths stores nationwide from this week, with a standard shelf price of $3.50 ($4.10 in SA and NT).
Former AFL star and 2014 Australian of the Year Adam Goodes is taking on the role of Ambassador for the program, as well as being part of the governance committee. He will act as an adviser to Woolworths and the Salvation Army on the STAND partnership and will be the independent voice representing the Australian community for the program.