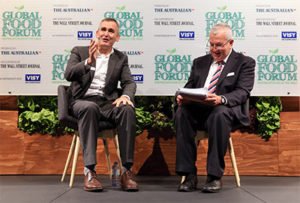 Speaking at the Global Food Forum, presented by The Australian newspaper this week, Woolworths
CEO Brad Banducci said Amazon's "onshoring" in Australia highlighted the megatrend of convenience.
Mr Banducci was responding to The Australian business columnist John Durie, who asked when Amazon would "destroy" Woolworths.
"I think it's a hard one,' Mr Banducci said. "From where we sit Amazon is about onshoring in Australia, not entry. It's been here for many years. But it does focus our mind on the megatrend of convenience."
The Woolworths CEO added to this by explaining how his company is focusing on customer experience and convenience.
"We have 200 stores where, if you're retired or elderly, you can take your groceries and put them on a shelf and have them delivered to your home," he said.
Mr Durie also questioned Mr Banducci about supermarket price cuts, which he said seemed to have transferred value from producers to supermarkets.
"I don't think that's true," Mr Banducci said. "We've invested over $1 billion in prices and you see that in our financial result. Customers need products that are affordable. You're not seeing value shift, just better prices. Food and health-food affordability is something we all need to encourage."
When asked how suppliers are to innovate when their profit margins have been killed, Mr Banducci responded: "Australia is an unusual food retail market … You often see Coles, Woolworths and ALDI next to each other – around 200 situations where Coles is virtually next door – virtually half our sales are in these situations."