Woolworths has partnered with Share the Dignity for the 'August Dignity Drive.'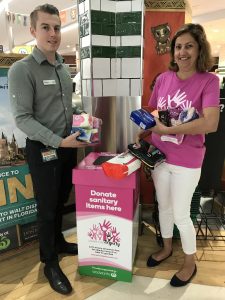 For the first time, Woolworths supermarkets across the country will be collection points for all sanitary product donations.
"I applaud Woolworths for taking leadership in addressing this 'taboo' subject and helping the Share the Dignity team in driving greater awareness of this growing issue," founder of Share the Dignity Rochelle Coutenay said.
"So many women every month, have to forfeit sanitary products because they cannot afford them."
Not only have Woolworths set up donation boxes at their supermarkets, but they have begun making donations themselves.
"Along with offering collection points at our stores for the August Dignity Drive, we will continue to donate five cents from the sale of sanitary items directly to Share the Dignity to help them continue their fantastic work of providing free feminine hygiene products to those that need it most," Woolworths Supermarkets Managing Director, Claire Peters said.
The donations made by Woolworths will aid in purchasing 30 new 'Pink Box Dignity Vending Machines,' that dispense free period packs to women and girls in domestic violence refuges, homelessness hubs and schools.