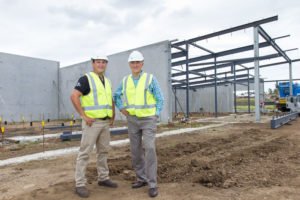 Construction has begun on a multimillion-dollar shopping village in Beaudesert, Queensland, which is scheduled to open in May.
The shopping village will comprise more than 4,400sqm of retail space, anchored by a 1,200sqm Greener Grocer supermarket and 500sqm of specialty stores. There are also plans for a fast-food restaurant and a family-friendly tavern.
The Oakland Shopping Precinct is part of the $1 billion Oakland Estate, which is being developed by Robinson Projects and features home sites and McAuley Catholic High School, which opened in January.
A new 4,502sqm Caltex service centre and convenience-shopping precinct is also being built.
Robinson Projects Director James Robinson says the shopping precinct will have a strong focus on local produce and services.
"My aim is to differentiate from other supermarkets in town by offering a larger range of produce and a unique home-delivery system, which will allow locals to order packages of fresh milk, meat and vegetables."
A range of tenancies are currently available in the Oakland Shopping Precinct, with spaces ranging from 30sqm to 120sqm.