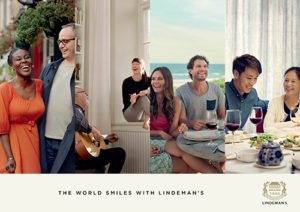 A new campaign for the Australian winery features universally relatable stories of friendship and positivity.
Celebrating Lindeman's remarkable popularity in more than 100 countries, 'The World Smiles with Lindeman's' campaign will launch globally from July 2016 across digital, still and video/TVC, in-store activation and limited-edition bottles.
The campaign provides a snapshot of people from all walks of life, capturing candid interactions and the moments that make them smile. While every story is individual and each location has a character of its own, the spirit of connection and positivity that unites them has no boundaries.
Lindeman's Global Marketing Manager Tasha Harp says the campaign is a modern interpretation of Lindeman's positive philosophy, which was first expressed by founder Dr Henry Lindeman in 1843 and has been a consistent value of the brand ever since.
"Lindeman's is available in 100 countries around the world, so we sought to capture just some of the locations and moments where Lindeman's is enjoyed," she said.
The campaign was shot in London, Stockholm, Guangzhou and Sydney by internationally renowned photographer Sophie Ebrard, who took a journalistic approach to subject and story, scouring each location to uncover interesting stories from 'real people' who enjoy Lindeman's and capturing these in her customary visual style, both on film and through still photography.