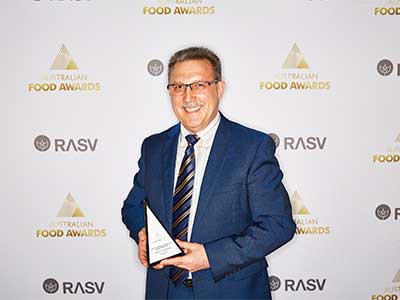 Australia's finest food producers have been awarded Champion trophies at the 2017 Australian Food Awards (AFA) presentation dinner.
The annual dinner conducted by the Royal Agricultural Society of Victoria (RASV) awarded 14 Champion trophies to 11 of the best food producers nationwide.
RASV CEO Mark O'Sullivan says this year's AFA winners were no exception to the home-grown excellence seen in previous years.
"It's extremely important for Australians to not only know and see where their food comes from, but to also be proud and celebrate the remarkable achievements of our Australian growers and producers, who create phenomenal produce day in and day out," he said.
"We congratulate all of the 2017 medal and trophy winners and thank our esteemed panel of judges for their contribution to this year's awards."
The Champion Australian Product/Produce award was presented to Tasmanian producer Australian Honey Products for its Sheffield Honey Farm Leatherwood, which also won the overall Champion Pantry Goods trophy.
Apollo Bay's Dooley's Ice Cream also won two awards, the Champion Dairy trophy for its Passionfruit Ice Cream, and, for the second year running, the Champion Medium Producer trophy.
The Champion Small Producer trophy was awarded to Enigma Fine Chocolates from the ACT, and Victorian producer Bertocchi Smallgoods won the trophy for Champion Large Producer.
Two producers tied for the Champion Australian Organic Product, with trophies awarded to Bundarra Berkshires (NSW), for its Free-Range Pork Rack, and Zeally Bay Sourdough (Victoria), for its Organic Spelt, Buckwheat & Polenta Loaf.
RASV also awarded 20 Consistency of Excellence awards to producers whose products have won an AFA gold medal for three years in a row, with an impressive 12 awarded to Dooley's Ice Cream for its ice-cream and gelato.
Bertocchi's Large honour for smallgoods 
Champion Large Producer Bertocchi Smallgoods' Marketing and Merchandise Manager Tony Rapone said of the award: "This achievement is an enormous honour to all our team of dedicated staff who work tirelessly to manufacture the finest-quality smallgoods Australia has to offer.
"Bertocchi will continue to maintain its reputation to focus on artisanal quality excellence and raise standards of ham, bacon and continentals product quality to demonstrate leadership of our industry."
Bertocchi was also awarded Championship Medal for its Aussie Gold Short Rindless Bacon at the 2017 RAS Sydney Fine Food Show – one of 20 medals it collected at the show
"These awards demonstrate the level of excellence in the standard of products proudly manufactured by Bertocchi," Mr Rapone said.