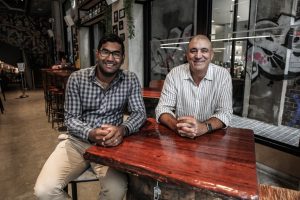 Newly established entity, 4YOU Innovation has today announced its launch to market following the strategic acquisition of last mile delivery provider, Drive Yello and order ahead platform, Hey You.
An unlisted public company, 4You Innovation brings together the two successful businesses with the united goal of helping retailers meet the ever-increasing consumer demand for convenience.
Drive Yello's Founding CEO, Steve Fanale and co CEO Asheesh Chacko (pictured), will head up 4You Innovation while both companies' respective leadership teams will remain with the group.
Mr Fanale says consumers want convenience when they shop online: "Flexibility, speed and certainty at an affordable price is what Australians expect," he says.
"By merging Drive Yello and Hey You into one powerhouse, we will provide a single local ecommerce enablement experience for retailers that delivers best-in-class technology, services and products. This will help retailers keep up with consumer expectations."
Established in 2015 and experiencing 150% YoY growth on average over the past two years, Drive Yello will continue to service some of Australia's largest retail groups including Woolworths, Endeavour Drinks and Coles.
Also established in 2015, Hey You continues to expand its network of cafes to provide its much-loved daily order ahead purchase experience for more than 100,000 cafe goers nationally.
With ambitious growth plans, 4YOU Innovation is forecast to achieve a $100 million turnover in FY23 with 5,000 active vendors, 5,500 active couriers, 10 million orders and 100,000 active customers. The newly established company is seeking to undergo capital raising activity to support its growth strategy and welcomes investor enquiries.
"4You Innovation has a strong and sustainable business growth plan that includes continued expansion nationally and the development of new convenience products that will help us attain greater market share and a more diversified convenience offering," says Mr Fanale.