Whittaker's has launched Whittaker's Cocoa Pods, promoted as the "ultimate locally made premium treat or gift".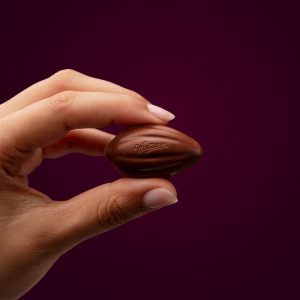 They are also a major innovation, says the company, following more than five years of development and investment in new state-of-the-art factory equipment.
According to Whittaker's, the Cocoa Pods have a 33% cocoa five roll refined creamy milk chocolate shell with a "wonderfully soft" centre of hazelnut gianduja. They are each crafted into an "elegant and unique shape" that resembles a natural cocoa pod. Each individually wrapped serve is a "generous" 12.5g, designed to be enjoyed in "two indulgent bites".
Whittaker's co-Chief Operating Officer Holly Whittaker says the company is delighted to offer a new premium chocolate just in time for gifting over the upcoming festive season.
"It's taken us several years to get to this point because we live by our 'best is always better' promise," she says.
"A key challenge for us was finding a way to create the silky-smooth hazelnut gianduja without the use of palm oil. To achieve this, we invested in new technology, which perfectly blends and balances the ingredients so that our Whittaker's Cocoa Pods are proudly palm oil-free like all the rest of our range.
"As well as our investment in high-end factory equipment and new processes, the development of our Whittaker's Cocoa Pods has involved a painstaking refinement of our recipe. We hope chocolate lovers will agree that the wait has been worth it for this decadent and delicious new treat."
Addressing sustainability
Whittaker's other co-Chief Operating Officer Matt Whittaker says the commitment the company has to sustainability as part of its quality focus includes ethical souring and considerations around packaging.
"Like all of our range that is made with Ghanaian cocoa beans, our new Whittaker's Cocoa Pods are Rainforest Alliance Certified and are all made at our one factory in Porirua where we make all of our other chocolate from beans-to-bar," he says.
Whittaker's is using a mix of different types of packaging for the Cocoa Pods.
Compostable material is used for the inner wrap. The outer layer of packaging on the 200g gift box is cardboard and is fully recyclable, while the outer layer of packaging of the 125g pouch is not recyclable or compostable.
Whittaker's Cocoa Pods are now available in supermarkets nationwide and at Whittaker's online gift shop.