Sunny Queen Farms is receiving a makeover to reinforce its position as the Feel Good Egg.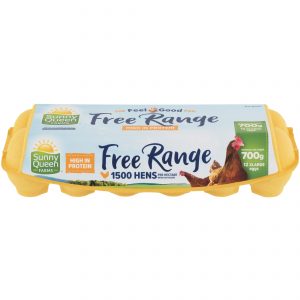 Their latest marketing campaign includes a new-look logo and pack design for Sunny Queens Farms Free Range.
Each smiley-faced egg is filled with protein and over 11 essential vitamins and minerals. Sunny Queen aims to highlight its benefits with its Feel Good message reinforced on the packaging, and in all marketing communications.
"In what has been a challenging year, we feel so proud to be able to provide to Aussies, eggs that truly make us all Feel Good, inside and out," says Sunny Queen's General Manager of Marketing and Innovation, Isabelle Dench.
"This is such an important concept for us at Sunny Queen Farms, so central to our purpose, and we want Australia to know it."
Sunny Queen Farm's Free Range campaign launched in mid-October across its social media platforms, paid TV and Digital Out-of-Home channels.
So, what is Sunny Queen Farm's committed to?
Hen welfare: Sunny Queen Farms Free Range eggs personal standard is 1500 hens per hectare – which gives their hens six times more space when outdoors than the 10,000 Australian National Free Range standard for hen density per hectare.
Healthy body: Just one egg contains more than 10% of the recommended daily intake of 11 essential vitamins and minerals.
Happy, delicious start to the day: The team at Sunny Queen Farms' aims to put a smile on faces with their smiley-faced eggs.
"This new campaign will bring the Feel Good Egg front and centre in all our communications, reminding our customers – and each of us in the Sunny Queen family – egg-actly how good Sunny Queen Farms eggs make us feel," concludes Ms Dench.
Visit Sunny The Egg's Facebook Page to watch the content series or visit sunnyqueen.com.au for more information.