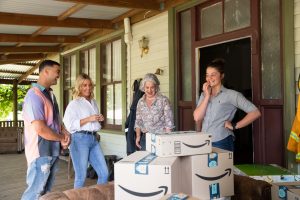 Amazon Australia is donating more than $220,000 worth of products, gift cards and holiday gifts to farming families in need across the country.
This is part of its partnership with not-for-profit, Drought Angels.
2000 families will receive a $100 gift card from Amazon.com.au, and five families will receive a Christmas hamper, ranging in value from $5000 to $10,000, containing this year's top holiday gifts.
Amazon is joined by winning singer and songwriter, Guy Sebastian and his wife, stylist, philanthropist and author, Jules Sebastian.
The pair partnered with Amazon and Drought Angels to deliver the first Christmas hamper to a farming family in Cudgewa, Victoria, who have been impacted by this year's bush-fire crisis and personal tragedy.
Louise Middleton, who was diagnosed with bowel cancer in 2019, her husband Ian and their two teenage daughters Grace and Genevieve are big fans of the Sebastian's.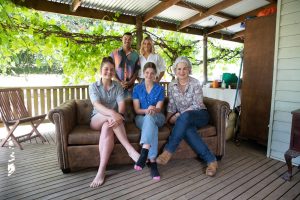 "2020 has really devastated our family, as we've faced tremendous loss, challenges and suffering," explains Ms Middleton.
"But the incredible donation from Amazon Australia and ongoing support from Drought Angels is amazing and will help us immensely as we restore our property, and our spirits.
"Meeting Guy and Jules was the cherry on top of this special experience, particularly for my girls who are big fans."
Country Manager for Amazon Australia, Matt Furlong adds: "We're so pleased to have worked with Guy and Jules Sebastian to give the Middleton's this special moment that they so deserve this Christmas."
Director of Drought Angels, Jenny Gailey concludes, "2020 has been especially challenging for Aussie farmers from natural disasters to financial hardship.
"It makes the world of difference for Amazon Australia to step in and help us provide relief and some much-needed joy ahead of the festive season."
To watch the surprise visit from Guy and Jules Sebastian at Cudgewa and find out how to support the Drought Angels charity, click here.