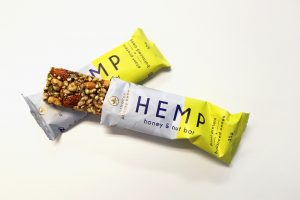 Australian owned and grown company, Australian Primary Hemp has released a hemp and honey nut bar that is claimed to be nutrition-packed and delicious.
Packed full of roasted peanuts, almonds, chia and hemp seeds, the bar is then mixed together with all-natural honey. These bars are said to pack 5.5g of protein per serve, are gluten free, a source of dietary fibre and are a balanced source of omega 3, 6 and 9.
Why Hemp?
Hemp is completely legal to eat and has been approved by Australian Government bodies and dietary associations. A spokesperson for Australian Primary Hemp says hemp is also vegan-friendly, GMO-free and doesn't contain gluten, dairy, soy, sugar, cholesterol or any additives.
"Australian Primary Hemp is 100 per cent Australian owned and locally grown by farmers around Australia," the spokesperson said.
"From paddock to customer, Australian Primary Hemp is committed to providing premium, all natural, hemp products.
About Australian Primary Hemp
Australian Primary Hemp began operation in August 2016 by a group of good mates, a passion for agriculture and an interest in developing a sustainable food source. In just under three years, Australian Primary Hemp is now one of Australia's largest producers of Australian grown hemp.
It ensures a complete end-to-end hemp service handling everything from seed selection, farming and processing to contract packaging, bulk and retail sales.
"By overseeing all aspects of the process, we can guarantee quality and fresh products all whilst supporting the local Australian community – a win win for all!"
Hemp & Honey Nut Bars are 35g and retail for $2.95. Australian Primary Hemp also ranges Hemp Oil, Hemp Seeds, Hemp Balance (plant fibre and protein) and Hemp Boost (plant protein).