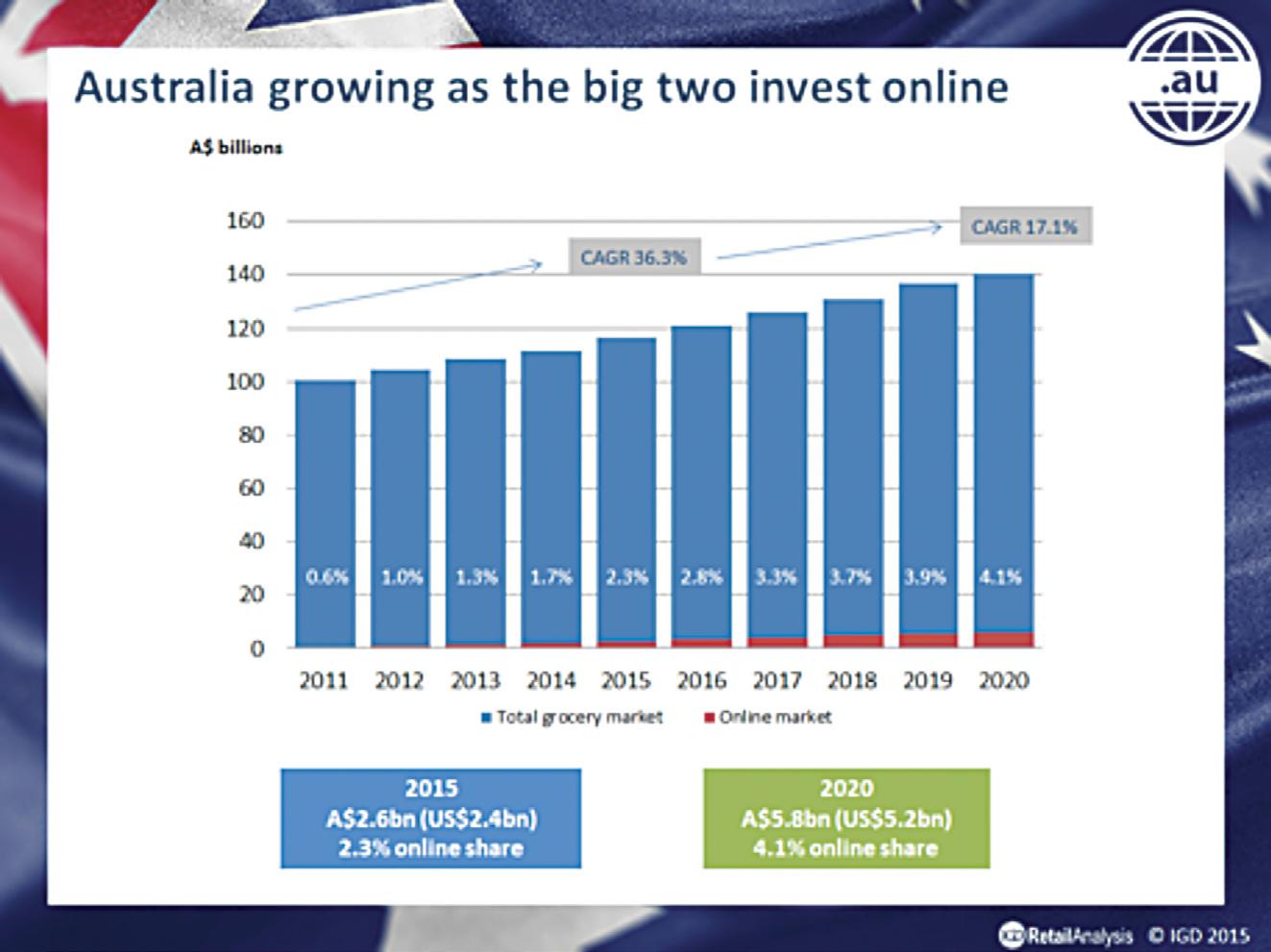 Grocery sales via the internet in Australia are expected to increase to $5.8 billion in 2020 from their current value of $2.6 billion.
Online share set to exceed four per cent by 2020
Although retailers down under have been slower than in other developed markets (such as the UK, Japan and France) to push the growth of online grocery retailing, Australia already punches above its weight on a global scale. It has the eighth largest online grocery market with 2.3 per cent of grocery sales going through the channel, and this proportion is predicted to grow to 4.1 per cent by 2020.
Changing shopper behaviour and retailer investment
Fuelling much of this growth is shifting shopper behaviour. However, retailers will also continue to strengthen their investment in the channel, particularly if sales in their core operations begin to slow.
Australian shoppers are increasingly shopping across multiple channels and becoming more accepting of online grocery retailing. The average online shopping basket in Australia is up to three times the value of the in-store equivalent and a recent survey showed that 39 per cent of shoppers may be tempted to use online grocery shopping in the near future.
As lifestyles become busier and more than three-quarters of shoppers in Australia have direct access to a grocery store via their smartphones, this trend is only likely to increase.
Linked to this, both Woolworths and Coles, which control 80 per cent of the online grocery market, are increasing their investment in the channel. In addition, ALDI launched its first ever transactional website in Australia, selling liquor online, and new and existing pure-play online operators, such as GroceryRun.com.au and Aussie Farmers Direct, also have a growing role to play.
Growth drivers: convenience, capability and value
Both Woolworths and Coles grew online grocery sales by more than 40 per cent in FY 2014. Their strategies focused around making online grocery retailing more accessible for shoppers, delivering a higher level of service and, finally, improved value for money.
Click and collect to grow rapidly
As well as launching online grocery services in more stores, click-and-collect solutions are set to rapidly increase, with collect-in-store, lockers and drive-through solutions all having been used to date.
Coles will extend online retailing into a further 13 stores in the next year and roll out an additional 50 stand-alone click and collect locations, on top of its 100-plus existing points.
Woolworths currently offers click and collect at about a quarter of its supermarkets, but plans more locations, including further 'drive-thru' services.
We also expect to see more cross-fascia click-and-collect solutions emerge in the market, targeting a seamless customer experience across both food and general-merchandise banners.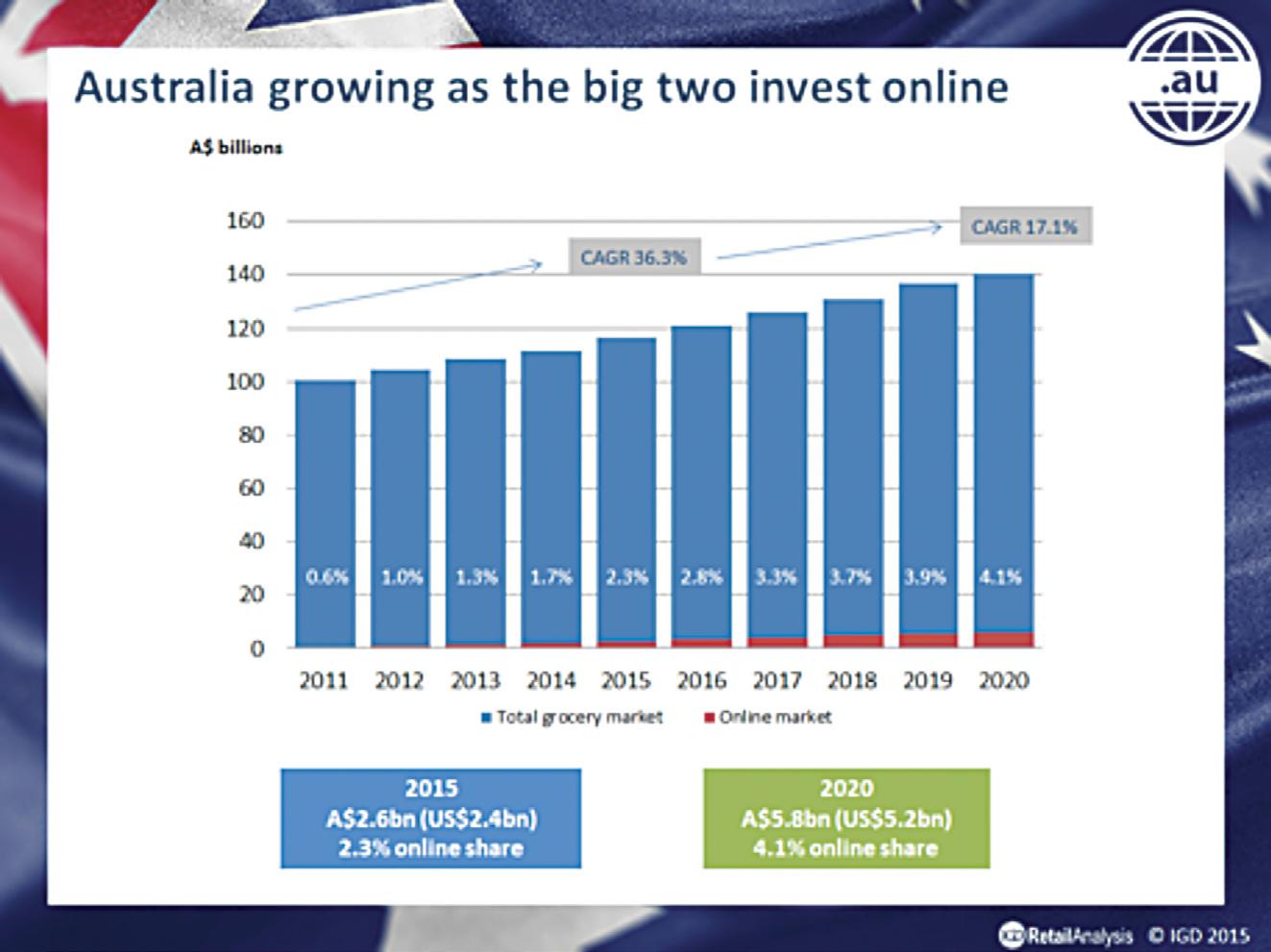 Innovations to improve the customer experience
Retailers will also continue to invest in their online platforms to ensure these are compatible across multiple devices and deliver an enhanced customer experience.
Woolworths has recently relaunched its transactional website, integrating it within its main website for the first time. Coles has introduced real-time order tracking for customers on their smartphones and Woolworths was one of the first retailers globally to launch an Apple Watch app.
As well as digital advances, Woolworths is looking to better service shoppers with Australia's first 'dark store', which opened in Sydney in 2014. Dark stores have unique advantages in terms of service, with greater capacity, better availability and more efficient picking, to name a few.
Melbourne and Brisbane have already been flagged as potential destinations for future facilities.
Cheaper delivery, better prices and saver schemes
Retailers are increasingly looking to make online grocery retailing more affordable.
Coles and Woolworths both offer some free-delivery options, with the latter launching a subscription 'Delivery Saver' pass in an attempt to lock in loyal shoppers. Both chains in recent strategic updates have also announced more transparent pricing between stores and online operations.
Coles will ensure that all products included in its 'Everyday' price campaign and all promotions are available online. Woolworths has said all online products will be the same price as those available in-store in the future.
What does the future hold?
The online grocery channel, although a relatively small part of the market currently, undoubtedly will begin to shape broader trading conversations with growth of more than 17 per cent a year forecast until 2020.
It is likely that additional existing bricks-and-mortar retailers will launch online services over the coming years or face being left behind, plus new pure-play operators are expected to enter the market.
Suppliers need to ensure they are building their capability to share in this growth, delivering shopper-led solutions through understanding how their categories are shopped for online.
Driving profitable growth will be the main challenge for all parties concerned and, therefore, keeping an eye on the latest developments from around the world will be key.
Nick Miles
Asia-Pacific Region
Manager
Nick heads up IGD's Asia-Pacific research team and is the main analyst covering Australia. He regularly travels to the market, visiting stores and engaging with retailers and manufacturers. Nick brings seven years of experience working for Tesco to IGD. For more information, email nick.miles@igd.com
IGD is a food and grocery research membership organisation, with around 900 members worldwide across the whole food supply chain. It is a leading source of insight covering retail, supply chain, shopper and people development. IGD's research team also identifies best practice across the world through its global innovation tracker. For more information, visit www.igd.com or contact liam.gilbert@igd.com.