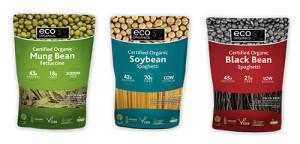 Eco Organics has launched its first Certified Organic Bean Pasta range.
The range comprises Black Bean Spaghetti, Mung Bean Fettuccine and Soybean Spaghetti – all Australian Certified Organic, gluten free and vegan.
Manufacturer Eco-Farms says that as part of its commitment to reducing the sodium level in food, Eco Organics Bean Pasta is simply made with 100 per cent organic beans and water.
"The best way to enjoy pasta with all the benefits of beans, they're a good source of fibre, with up to 45g protein and 21g fibre per serve," a spokesperson said. "Perfect for the whole family, they're delicious in Asian cuisine and classic Western dishes, and ready in only seven minutes."
Look to support local manufacturers who have the innovation and design capability to accelerate your production rather than paying inflated international prices for your machinery.
Read More