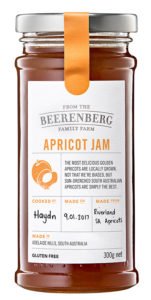 Jam maker Beerenberg has launched new labelling to highlight the provenance of the locally-grown produce used in its jams, which include Strawberry, Apricot, Blueberry, Raspberry and Orange Marmalade.
The new labels feature information detailing the batch number, date produced and the area from where the fruit was sourced, as well as the name of the Beerenberg cook who has handmade a particular batch.
"For produce such as meat, eggs and vegetables, as consumers we're all becoming more educated on considering what we buy, where it comes from and how it's produced, but I think many are still adapting to that train of thought when it comes to items such as jams, sauces and condiments," Beerenberg Managing Director Anthony Paech said.