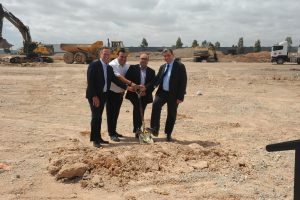 This week, Metcash began work on a 'best in class' distribution centre in Gepps Cross, Adelaide, to service independent retailers.
The company held a 'turning of the soil' event (right) to celebrate the start of construction. In a statement, Metcash said the new DC would deliver "operational efficiencies" for its independent networks in SA. It also added that local suppliers would also benefit from Metcash's "extensive distribution network".
The company expects to complete the DC in mid-2020. It will be 68,000sqm in size and employ 300 people. Metcash describes its key benefits as:
Greater range capacity, including in fresh foods
Increased operational efficiencies
Best in class solutions
A flexible design to enable future developments
A fit-for-purpose, four-star-rated building.
'Crucial to local communities'
Metcash Group CEO Jeff Adams stressed the importance of independent retailers to local people and to SA in general.
"Independent retailers are crucial to local communities," he said. "They provide a differentiated offer that includes convenient locations, local friendly service, a broad product range that is tailored to the local community, as well as much-needed community support.
"At Metcash, championing the success of our independent retailers is at the core of what we do. And our decision to proceed with a new best in class distribution centre in SA is a reflection of this.
"SA is one of Australia's most competitive states for supermarkets, so the new DC is particularly important from this perspective.
"The new DC reflects a significant, long-term investment by Metcash in SA to help ensure the future competitiveness of our independent retailers here."
A team effort
Mr Adams also paid tribute to the various partners Metcash is working with to make the new DC a reality.
"I'm also pleased that our partners on the project, Charter Hall, are here with us to celebrate work commencing on the site. We also welcome our partners Ahrens and Aretzis Group.
"Planning for the new distribution centre has involved working closely with Charter Hall over a number years now. I'd like to sincerely thank them for their efforts.