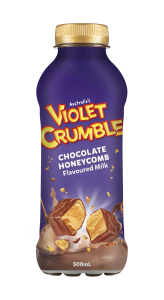 This isn't a drill – Robern Menz and Bickford's are teaming up for… yes, you guessed it, Violet Crumble flavoured milk.
In August, a leaked photo revealed the Violet Crumble and Bickford's collaboration, sending consumers into a frenzy.
"We are thrilled to confirm that we have collaborated with Bickford's to launch the only nationally available chocolate honeycomb flavoured milk in Australia," says CEO of Robern Menz, Phil Sims.
"Violet Crumble is an iconic Australian brand and flavoured milk is part of Australian pastime, so we knew that chocolate, honeycomb and milk would make sense."
New information reveals that people in South Australia and Northern Territory are the largest consumers of flavoured milk and iced coffee at 20 litres per year – almost double the national average.
Compressed air comes at a significant cost to companies operating in the food, beverage, and packaging industries. In fact, in many areas of production, more than 20% of compressed air energy can be attributed to waste.
Read More
Bickford's Group Marketing Manager, Chris Illman says, "As an independently owned beverage manufacturer, we're proud to be partnering with iconic South Australian businesses, Robern Menz and Golden North dairy to bring to life the Violet Crumble Milk across Australia.
"There has been huge interest from our customer base already and we are buoyant on the potential of this collaboration."
Violet Crumble Chocolate Honeycomb Flavoured Milk will be hitting shelves across Australia from this week, available nationally in Coles Express, Caltex stores, Drakes, IGA.
It will also be available at Romeo's and Foodland supermarkets across South Australia, The FruChocs Shops and Bickford's online store, Sippify.