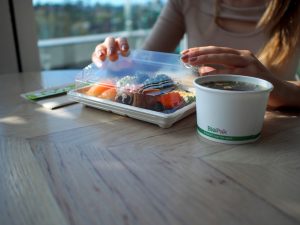 BioPak continues to provide plant-based alternatives for food storage with its latest launch, compostable sushi trays. The eco-friendly packaging acts as an alternative to the takeaway dishes used to traditionally serve sushi and will allow for retailers with food-to-go offerings to limit their negative effect on the environment.
"We're thrilled to announce the release of our compostable sushi trays. This new product continues our range of compostable foodservice packaging designed for circular economy," BioPak CEO Gary Smith said.
The bases of the trays are made from sugarcane pulp, a by product of the sugar refining industry that is otherwise discarded. They are certified home-compostable (AS5810) and can be paired with BioPak's new IngeoTM sushi tray lids.
The trays and lids can be purchased from the BioPak website with 7.5 percent of the profits going to positive change through BioPak's own 'Give Back' program.