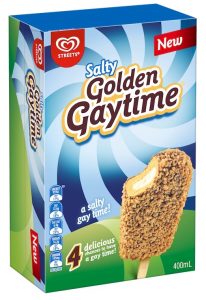 Streets Ice Cream has launched a brand new Golden Gaytime just in time for summer – the Salty Golden Gaytime.
Streets describes it as, "An utterly delicious take on Australia's favourite ice cream, with toffee and vanilla ice cream, chocolate, iconic vanilla crumbs and a savoury, light sprinkling of salt."
General Manager of Ice Cream at Unilever Australia and New Zealand Paul Connell said, "We know Aussies love a Golden Gaytime so there was no question they would go crazy for a salty one.
"And with Salty Golden Gaytime available in single and four packs, you can enjoy one by yourself. But why not grab some friends and try it together? After all, it's hard to have a Gaytime on your own.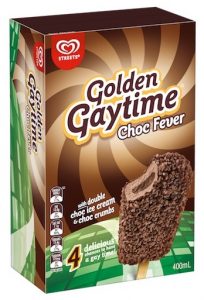 "Since we ran our Gaytime Crumb Shed in 2017, Salty Golden Gaytime has been a highly requested addition to the Gaytime family. It's great to give Aussies what they want."
Look to support local manufacturers who have the innovation and design capability to accelerate your production rather than paying inflated international prices for your machinery.
Read More
Streets Ice Cream has also introduced Golden Gaytime Choc Fever, a double chocolate ice cream loaded with choc crumbs – "the perfect combo for the chocolate lovers," Streets said.
Salty Golden Gaytime is now available on shelves nationwide. Golden Gaytime Choc Fever is available in Woolworths and in independent retailers.
Salty Golden Gaytime (singles and multipack) – $3.40 RRP / $8.49 RRP.
Golden Gaytime Choc Fever (multipack) – $8.49 RRP.