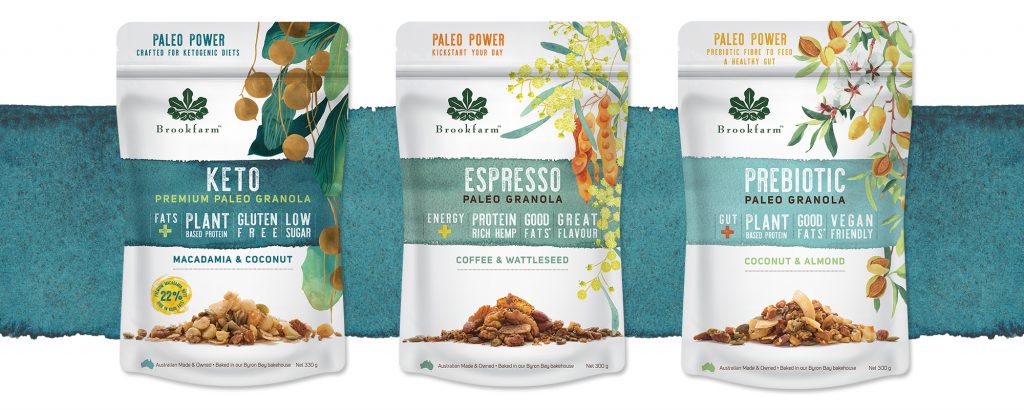 Australian gourmet food producer Brookfarm has launched a Paleo Granola range comprising three products packed with sustainably sourced and health-focused ingredients.
The Espresso Paleo Granola blends local Byron Bay coffee with Australian wattleseed. The Prebiotic Paleo Granola blends almonds and coconut "to promote diversity in your gut". The Keto Premium Paleo Granola is said to be "the leader of the pack and built for ketogenic diets". It contains over 22% macadamias.
Brookfarm's co-founder Pam Brook developed the Paleo Granola range to build on the hugely successful Paleo Powerfood – the brand's category-leading granola. Paleo Powerfood was created in 2006 to help her best friend Betty's fight against cancer, after struggling to find a true ketogenic product which was high in good fats and low in sugar.
Will Brook, son of co-founders Pam and Martin Brook, now leads Brookfarm as CEO. The launch of the new range was driven by Will, as Brookfarm continues to innovate in the premium cereals category.
"Creating the new Paleo Granola range was such a great process," Mr Brook says.
"When the idea to expand our Paleo range was first mentioned, we got straight to work and spent three months in product development, ensuring we maintained our same high standards of premium ingredients, culminating in three moreish blends of paleo granola.
"We wanted to innovate in the category, blending flavours and natural ingredients with great health properties."
The Paleo Granola range, which focuses on wholefoods and healthy fats, is also gluten free and vegan.