With the goal to put spreads back into lunchboxes, Buddee has received numerous awards in recognition of its innovation, health attributes and Australian manufacturing excellence.
Buddee won the Australian Small Business Champion Awards 2023 (Manufacturing category) held at The Star Sydney on 28-29 April with over 1000 guests attending, amongst 4500 businesses nominated for a variety of small business categories.
Buddee also won the World Food Innovation Awards 2023 (Best Low or No Product category) in March 2023, as well as the Healthy Food Magazine's Lunchbox Awards 2023 (Fridge and Pantry Shortcuts category) in January 2023. Buddee has also been nominated as a finalist for the Naturally Good Awards 2023 (Best Free From Product category), with the results to be announced in June 2023.
Buddee launched its range of nut free spreads in August 2022 and is already popular with Australian families, being stocked at both Coles and Woolworths Australia-wide.
"Its unique point of difference being it's completely free from the top 10 food allergens, such as nuts, dairy, gluten, soy, egg and sesame," the company said. "A healthy and safe alternative to common nut-based spreads like Nutella and peanut butter. Now, Buddee is a lunchbox favourite among Australian families, especially because it is safe to take to school."
Food Allergy Week 2023 is from 21-27 May 2023, and Allergy & Anaphylaxis Australia CEO Maria Said AM said: "[in Australia] 6-8% of school aged children have food allergy. It would be difficult to find a classroom without a child with food allergy." According to the Murdoch Children's Research Institute, Australia is considered the allergy capital of the world with over five million people living with allergic diseases[1].
"The prevalence of food allergy has increased dramatically since the 1990s, when food allergy was rare. A&AA launched Food Allergy Week (FAW) in 2002. We'd like FAW to be a week where people make more of an effort to understand a little more about food allergy so that those living with food allergy feel more supported and included," Ms Said added.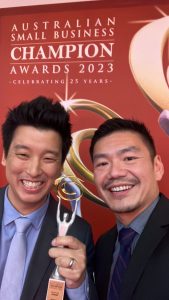 One of Buddee's co-founders Seong-Lee Ang (who is a parent of two children that both suffer from severe anaphylactic food allergies) explained: "We created Buddee to provide a more inclusive option for school children. Our goal was to make the school playground that little bit safer for everyone at lunchtime. With so many schools around the country with no-nut policies, we wanted to provide a nut free, quick, healthy, and tasty option for all the busy parents out there to pack into their kids' lunchboxes".
"Food Allergy Week is an amazing initiative to increase the awareness of food allergy, especially in schools. We at Buddee are so honoured to have recently received multiple awards to recognise the difference we are trying to make. The inspiration behind Buddee was my two children, to make life easier for them. However, we quickly realised that Buddee is very much for the wider community of Australian families, not just for those suffering from food allergy", Mr Ang added.
When asked about FAW and the message she had for non-allergy families, Maria Said AM added: "Thinking of people with food allergy when planning activities goes a long way for people with food allergy who constantly feel like a burden and are sometimes even excluded. Food allergy management is a community issue. We all need to know about food allergy so family and friends with food allergy can have an improved life."
Buddee Chocolate and Crunchy (RRP $6.50) is available at Coles supermarkets nationally, and Buddee Chocolate and Smooth (RRP $6.50) is available at Woolworths supermarkets nationally.
[1] Murdoch Children's Research Institute:
https://www.mcri.edu.au/research/research-areas/population-health/population-allergy#:~:text=Australia%20is%20considered%20the%20allergy,a%20clinically%20confirmed%20food%20allergy.