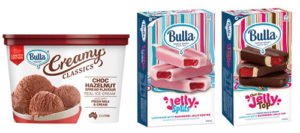 Bulla Dairy Foods is releasing a range of ice-cream and frozen yoghurt products in time for summer, as part of what the company says is its commitment to bringing fun to the freezer.
According to Bulla, the 'unfakeably summer' range is an ode to family beach days, backyard cricket, green and gold zinc stains and the great Aussie barbecue. The range comprises Bulla Creamy Classics Choc Hazelnut Spread ice-cream, Bulla Frozen Greek Style Yoghurt cones, mini sticks and tubs, Bulla Choc Bar Jelly Tops and Bulla Jelly Splits sticks.
"We are always working in our innovation centre to develop brand new tastes, flavours, textures and combinations," Bulla Dairy Foods General Manager of Marketing and Innovation Nick Hickford said.
"This summer, the Bulla family has so much to share and we can't wait for Australian families to try our new creations. Shining light on our unfakeable legacy and heritage, our team take great pride in inventing new products that set us apart while still upholding our values of quality, taste and tradition."
Bulla's new range is available nationally at Coles, Woolworths and independent retailers.