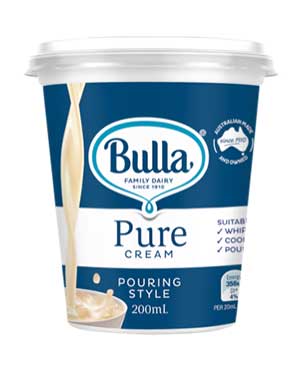 Bulla Family Dairy (Bulla) has introduced Pure Cream, promoting it as "rich, creamy and decadent" with a fat content of 45 per cent and "unique" in the cream market.
Bulla says that with its 107-year cream-making heritage, it is committed to time-honoured traditions and has created a new product for Australians that contains nothing but the purest cream, locally sourced from Australian farms.
"This cream has been two and a half years in the making and we're so proud to finally launch it to market to complement our premium range," Bulla General Manager Marketing & Innovation Nick Hickford said. "As the name suggests, it's pure, which means no additives or thickening agents. It's a deliciously creamy, natural product with a clean flavour, perfect for sweet and savoury dishes alike."
A pouring-style cream presented in a cup, Pure Cream sits in Bulla's premium-cream range, which includes dollop cream, crème fraiche and double cream.
The "rich, multipurpose" product, said to be ideal for cooking, whipping or simply pouring over a favourite family dessert, is available at Woolworths, Coles and selected independent stores in 200ml cups.