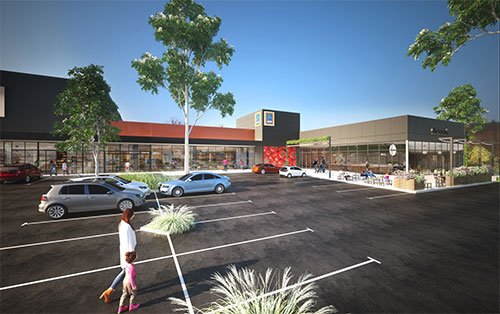 A former Bunnings warehouse in Springvale, Victoria, will become Ouson Plaza – a shopping centre anchored by an ALDI supermarket and The Good Guys store.
According to Burgess Rawson Leasing Director David Mark, the successful repurpose of the 'Bunnings box' will deliver a significant retail boost for the area.
"Burgess Rawson developed a leasing strategy that ensured the mix of tenants was both complementary and serviced the gaps identified within the immediate catchment of Springvale," Mr Mark said.
"Capitalising on the high passing traffic, substantial carpark and large built form, we were able to attract strong interest from a number of top-tier national retailers, all within a six-month leasing campaign."
Mr Mark says the continued domination of Bunnings warehouses throughout Australia means many of the original stores are being relocated to newer, larger store footprints, which present strong opportunities for large-format retailers and entrepreneurial property investors and developers.
"Bunnings warehouses are beginning to outgrow their original sites, which typically unlocks an excellent opportunity to successfully convert them into new mixed-use retail destinations," Mr Mark said.
"By capitalising on the properties' strong attributes, such as location, vast footprint, visibility, substantial parking amenity and direct vehicular access, we can attract a strong mix of complementary retailers to these developments."
The Ouson Plaza development will include: The Good Guys (2,200sqm); ALDI (1,700sqm); Crunch Fitness (2,000sqm); Best Friends Pets (918sqm); Bottlemart (200sqm); Paesano Restaurant (600sqm); McDonald's (pad site); and Caltex (pad site).