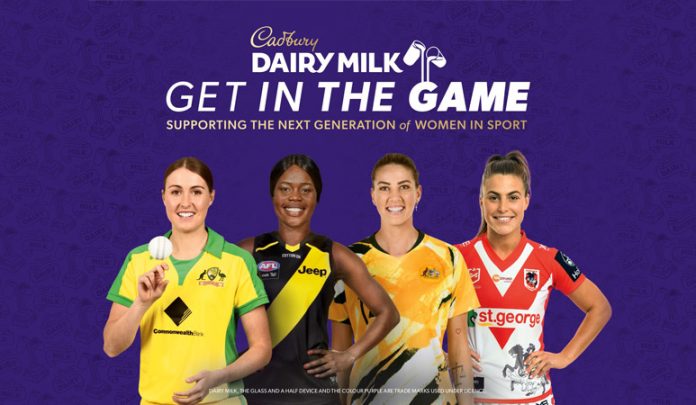 Who runs the world? Girls! Even in the sports world, girls can run that too.
Together with AFLW, Australian Women's Cricket team, the NRLW and the Westfield Matilda's, Cadbury is launching its National Women in Sport initiative.
One in two young girls drop out of from organised sport from the age of 15. The initiative will inspire and enable young girls to continue to participate in sports, encouraging them to break through the barriers that young women may face in male originated sports.
The two-year partnership will see women's sport put at the forefront, encouraging Aussies to engage and connect with women's sport. Whether it be watching, playing or supporting behind the scenes – the initiative will celebrate and cheer on Australian women in sport.
"We're thrilled to launch our Women in Sport initiative this year," says Senior Marketing Manager at Mondelez Australia, Kathy De Lullo.
"As a brand, we have a long history of supporting local communities and we feel incredibly passionate about encouraging and supporting the continued growth and equality of women's sport in our country."
Meet the ambassadors
Cadbury is additionally partnered with four motivating female athletes to support the continued growth of women in sports and inspire the next generation.
The Women in Sport Ambassadors include Richmond Football Club and AFLW role model Akec Makur Chuot; Westfield Matildas star defender Alanna Kennedy; St George Illwarra Dragons player and NRLW Women's Player of the Year, Jess Sergis; and Australian Young Cricketer of the Year Tayla Vlaeminck.
Ms De Lullo says, "With women's sport kicking off in September, it couldn't come at a better time, especially given the broader challenges of 2020 for all sporting communities."
The Cadbury Women in Sport initiative will be promoted across social media, media partnerships, public relations, Ambassador marketing and in stadium media.