Cadbury has launched a range of Christmas products for gifting, sharing and enjoying.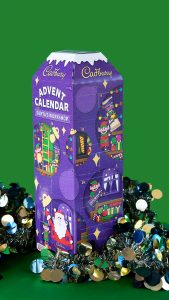 On top of the list is Cadbury's 3D Advent Calendar, which is hoped to make counting down the days more exciting. Consumers will find a chocolate surprise behind each door of Santa's workshop. The Advent calendar has a RRP of $20.
Next on the list is Cadbury chocolate baubles, promoted as a "bite size delight" perfect for sharing with family and friends as we get into the festive spirit. They are "festively" foil-wrapped and crafted from the "iconic Cadbury flavours we all know and love", Cadbury Caramilk, "flowing" Peppermint, Caramello and "classic" Cadbury Dairy Milk milk chocolate.
Cadbury chocolate bauble share packs are available in 113g, 117g, 230g and 651g packs with RRPs ranging between $4.50 and $15.
With intentions of becoming an Australian "staple" for the festive season, Santa is hitting shelves in 180g Cadbury Dairy Milk milk chocolate form. The product is retailing for $6.
Last but not least, Cadbury has refreshed its Chocolate Coated Nuts. The range includes new Cadbury Milk Chocolate Coated Hazelnuts, as well as Cadbury Milk Chocolate Coated Almonds, Cadbury Milk Chocolate Coated Peanuts, Cadbury Milk Chocolate Coated Sultanas and Cadbury Old Gold Dark Chocolate Coated Almonds. They have a RRP of $10.
Cadbury's latest Christmas products are now available in all leading supermarkets and independent retailers.