As the nation was thrown into lockdown to help flatten the COVID-19 curve, it seems our eating habits were, well, thrown into disarray.
The National Heart Foundation recently surveyed 500 people and the results indicate that our eating habits have taken a hit.
The survey found that more than half of Australians (54%) whose diets changed in lockdown experienced weight gain and feelings of sluggishness – they reported feeling like they had let themselves go.
The results of the survey as found:
63% of people surveyed reported changed eating behaviours, and of these one third report to be eating worse in lockdown.
1 in 5 people report consuming larger serves.
46% of those who reported their diet had changed indicated feeling frustrated or guilty about it.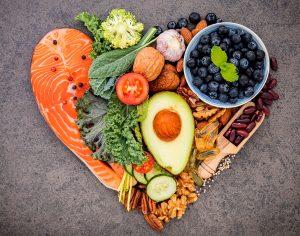 "With the pantry and fridge in tempting reach, we found that 29% of people were eating more to relieve stress and boredom, while 26% were eating more dessert and nearly a quarter were snacking more than usual," says Heart Foundation Group CEO, Adjunct Professor John Kelly.
"Even before lockdown, poor diet was a leading risk factor for heart disease, which, sadly, takes the lives of 48 Australians every day. As we slowly emerge, it may be hard to leave behind some of these unhealthy habits."
The Cook with Heart Challenge
While enjoying treats and sometimes foods occasionally isn't a bad thing, it's well known that poor eating habits may lead to poor health (physical and mental) outcomes in the long-term.
To help people get back on track with healthy eating habits the National Heart Foundation has teamed up with Coles to encourage home cooks to create and share heart-healthy recipes to improve their wellbeing while raising funds to help save lives from heart disease ­– Australian's single biggest killer.
The National Heart Foundation and Coles have developed 'The Cook with Heart Challenge', which aims to encourage people to make 5 or 10 heart-healthy recipes in 10 days to improve their health, while cooking for a great cause.
"Our purpose at Coles is to sustainably feed Australians and help them lead healthy and happy lives – this is very much aligned to the Heart Foundation's vital work.
"As our community continues to follow social distancing practices, sharing food at home or through virtual channels strongly connects people during these uncertain times.
"Now's the perfect opportunity to try new recipes or improve your skills in the kitchen," says Coles Chief Marketing Officer, Lisa Ronson.
Professor Kelly adds: "Together with Coles, we want to encourage all Australians to eat well for their hearts.
"It can be as simple as adding a few more vegetables, fruits, wholegrain cereals or lean healthy proteins to your plate."
Are you up for the Cook with Heart Challenge?
If you're up for the Cook with Heart Challenge all you need to do is:
Challenge yourself to cook five or 10 heart-healthy recipes in 10 days and raise money to fight heart disease, Australia's single biggest killer.
You can download 20 easy and delicious heart-healthy recipes by visiting the Cook with Heart website.
Raise funds for heart disease and in doing so, Coles will generously match the funds raised to a maximum of $100,000, so your support is vital.
Don't forget to share your healthy creations by using #cookwithheart, #coles
For more information or to sign up to the challenge, visit: cookwithheart.com.au