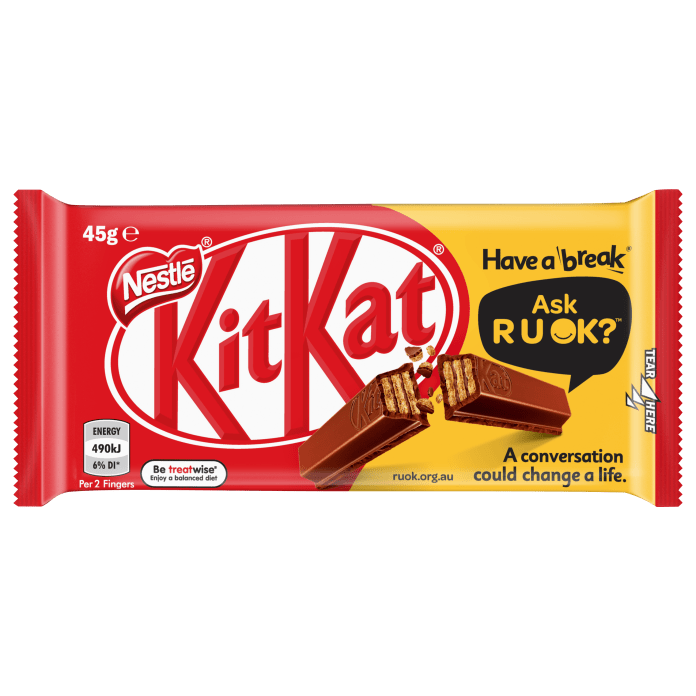 Chit-Chat with KitKat announces a major ongoing partnership with R U OK?, an Australian suicide prevention charity which aims to inspire and empower people to connect meaningfully.
KitKat is an official 'Chit-Chat' partner for R U OK? and the confectionery company is encouraging people to not only 'Have a Break' but to take their break one step further to support R U OK? in driving conversations that could change a life.
Limited edition KitKat wrappers will carry R U OK? labelling, reminding Aussies to have a break and use the time to ask their friends, family and colleagues, 'are you OK?'.
"As a brand, KitKat is synonymous with taking a break; whether it's at work or at home, long or short, it's important to take some time out. How that time is spent is also important, which is why we're proud to partner with R U OK? and encourage people to use this time to have a meaningful chit-chat that could make a difference," says Nestlé Head of Marketing Confectionery, Joyce Tan.
"We've long seen people use KitKat bars as a catalyst to have a break, so we hope by joining forces with R U OK? we can encourage people to use these breaks to drive genuine conversations between people."
The R U OK? four-finger KitKat will be available for a limited time in major grocery stores at the end of August.
R U OK? Day is held on 10 September.
Learn more about the day, here at ruok.org.au.
And more retail news click here.