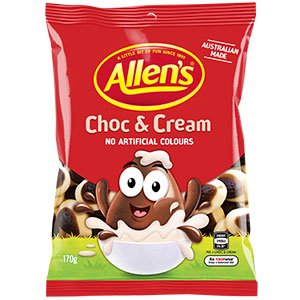 A contest organised by Allen's to name the public's favourite lolly remix was won by Choc & Cream, which will be stocked at Woolworths from late March. 
Choc & Cream received 46 per cent of the 20,000 votes cast, which was slightly more than the 'remixed classic' Funny Teeth and significantly more than Ginger Cats, a twist on the brand's Black Cats that "polarised" voters during the two-week poll period and received just 14 per cent of the vote.
The Choc & Cream looks the same as Allen's Strawberries & Cream and has a chocolate flavour that differs from Allen's well-known Chicos.
"It's the perfect lolly for those fans who love both lollies and chocolate," Nestlé General Manager of Confectionery Martin Brown said.
The limited-edition lollies were featured at Allen's first-ever Lolly Bar, which ran for four weeks in Sydney in the lead-up to Christmas.
The winner of last year's contest was Peaches & Cream. It proved so popular that the limited-edition run was extended indefinitely.