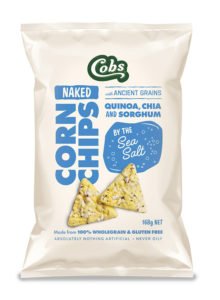 Cobs says its new Naked Corn Chips are made from quinoa, chia and sorghum, using high oleic sunflower oil, which is low in saturated fats.
"Sorghum is one of the most ancient grains, densely packed with antioxidants, so our new Naked Corn Chips provide a healthy, nutritious snack choice for both adults and kids, without losing out on the flavour," Cobs co-founder Ravit Walys said.
Cobs' Naked Corn Chips are gluten free and come in two flavours – the Big Cheese and By the Sea Salt. The 168g packs will be sold for $3.75 and will be available from independent grocers and specialty retailers.