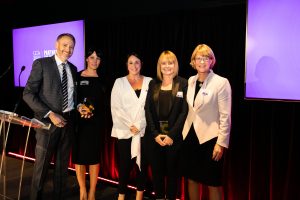 More than 70 companies joined Coca-Cola Amatil at their headquarters in Sydney for the annual Australian Partner for Growth Awards, with FleetPlus (pictured) named 2019 Australian Partner of the Year.
The Partner for Growth Awards celebrate ingenuity and the commitment of suppliers in helping Amatil deliver innovation and results in sustainability, product development, business systems and customer service.
Categories include Customer Service, Supply Continuity, Quality, Competitive Advantage, Sustainability, Innovation and Growth, and Rookie of the Year.
'Intricate understanding'
Group Chief Financial Officer of Coca-Cola Amatil Martyn Roberts says the awards are about turning transactional arrangements into meaningful business partnerships.
"Every nominee and winner has distinguished themselves over the course of 2018 to develop an intricate understanding of our Australian-based businesses and a shared-value mindset leading to greater outcomes for all," he said. "This is what sets them apart from other suppliers in Australia.
"We're proud to work with each of the winners and nominees and congratulate them on this recognition from our team."
This is the third year Coca-Cola Amatil has held the Awards in Australia. Amatil also holds partner recognition programs in New Zealand and Indonesia.