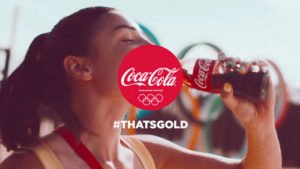 Coca-Cola is marking its 88th year of partnership with the Olympic Games and has launched a campaign to highlight golden moments both on and off the podium.
As part of a major multichannel marketing campaign, the brand is encouraging Australians to celebrate and share their own special '#ThatsGold' moments and get into the Olympic spirit.
To bring the campaign to life, Coca-Cola has named Australian hurdler and Olympic medal hopeful Michelle Jenneke as a #ThatsGold ambassador in Australia.
In her role as ambassador, the athlete will play a prominent role in a high-impact marketing program that Coca-Cola will be running to support the campaign in Australia and also globally in the coming month. She will be a face of a new TV ad to promote the Olympics campaign and will also engage in PR and social media activity to encourage Australians to share their own #ThatsGold moments and get behind Aussie athletes. There will also be additional proximity out-of-home advertising and tailored digital activity.
Limited-edition Olympic collectors packaging is now available in-market across 375ml packs of Coca-Cola, Coca-Cola Zero and Diet Coke, as well as 600ml packs of Diet Coke and Coke Life. There are six variations of designs on the 375ml cans (sold in 30-packs only), while on the 600ml bottles there are four designs per variant (sold in singles).
Australian singers Cody and Alli Simpson have been enlisted as key influencers to support the campaign on a global level. They will be contributing a range of content in the lead-up to and during the Games that defines what #ThatsGold means to them, encouraging their substantial social media following to celebrate their own golden moments.
The siblings will also be involved in the Olympic Torch Relay, with Coca-Cola the presenting partner of the Olympic flame on its journey through Brazil. A total of 2,400 Coca-Cola torchbearers were chosen based on the inspiring work they have done in their communities.
Coca-Cola will be launching the Coca-Cola Olympic Station for the first time in its Olympic Games association. The brand says this will create an official 'must-see' hang-out for teens in Rio, where they can experience and engage with the Olympic Games on their terms, and will give fans the chance to experience #ThatsGold in a number of ways, from innovative tech activities to headline events with their sporting heroes.