Leah Weckert has been appointed as Coles' new Managing Director and CEO, upon the retirement of Steven Cain.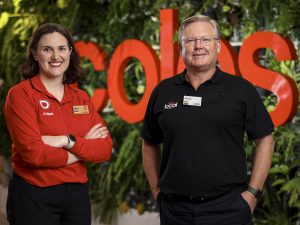 "Leah has an outstanding track record of leadership and driving change inside Coles across key operating areas of the business," says Coles Chairman James Graham.
"I am confident that Leah will maintain the focus of Coles in driving our strategy, building trust with all stakeholders and growing long term shareholder value.
"Leah has personal and professional qualities which together with broad business experience uniquely qualify her for the role as our next CEO."
Mr Graham also recognises and thanks Mr Cain for his leadership of Coles since joining in 2018.
"Steven successfully steered the Group through demerger; developed and pursued a strategy which has seen it become one of the most trusted brands in Australia; and built an outstanding management team with an elevated focus upon technology; sustainability; smarter selling; and, diversity and inclusion," he says.
"Steven's leadership through the challenging Covid period saw Coles play a most important role in meeting essential community needs, increasing our reputation with key stakeholders and keeping customers and team members safe.
"In addition, during these last five years, we have seen significant development of our portfolio with the material expansion of our online business, the reshaping of supermarkets' store formats and the expected near-term completion of the sale of Coles Express."
On his retirement, Mr Cain adds: "I would like to thank the Coles Board, team and our many partners for their support, insights and resilience – particularly during Covid, bushfires and floods.
"I would like to congratulate Leah on becoming my successor and I wish Coles continued success, and know that the best is yet to come."
At Coles, Ms Weckert has held the positions of Chief Executive, Commercial and Express; Chief Financial Officer; People and Culture Director; and State General Manager, Victorian Supermarkets. She has also been a senior member of the executive leadership team since the demerger of Coles from the Wesfarmers Group in 2018.
"I am very honoured to be appointed as the next CEO of Coles, which has been such an important part of Australian retailing for more than 100 years and play a part in its ongoing contribution to the Australian community," says Ms Weckert.
"We have a transformational strategy that, through the hard work of our 130,000 team members, will deliver better experiences for customers and create value for shareholders. I am excited by the many opportunities and look forward to bringing them to fruition over the years ahead."
Ms Weckert will commence her new role from 1 May.