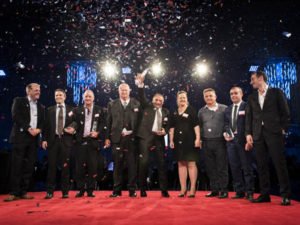 Around 1,200 suppliers and team members attended the Coles Supplier Awards gala in Melbourne last week.
Seven awards were presented at the event, which took place at the Melbourne Exhibition and Convention Centre.
"We are immensely grateful to all our suppliers, who go to great lengths every day to support Coles and ensure our customers have great products and services at affordable prices," Coles Managing Director John Durkan said.
Mountain Blue Farms in Lindendale and Tabulam, NSW, won the Product Innovation Award for the development of its pioneering new jumbo blueberry variety, the 'Eureka'.
Sundrop Farms won the Sustainable and Ethical Excellence Award for the energy-saving technologies it employs in its farming of truss tomatoes in Port Augusta, South Australia.
Solaris Paper in Sydney won the Best Product Launch Award for the development and launch of its So Soft toilet paper brand.
9mile Fresh in Gippsland and Yarra Valley won the Community Champion Award in recognition of owner Robert Thompson's ongoing efforts to distribute apples and raise money for a host of charities and organisations.
Evolve Research and Consulting won the Outstanding Service Award for administering 40,000 'Tell Coles' customer and team member feedback surveys each week across Coles supermarkets, Liquorland, Online and Express.
The British Sausage Company in Perth won the Supply Chain Excellence Award for its initiatives to deliver fresher sausages to customers by decreasing the time it takes to deliver products to stores.
Della Rosa Traditional Fresh Foods won the Rising Star Award for the development and launch of the popular Coles Brand Chilled and Frozen Pizza range.