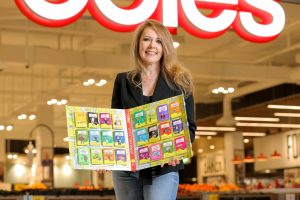 The latest of collectibles launched by Coles, will inspire children to dive into books. Aussies kids will be able to collect pocket-sized books inspired by the award-winning Treehouse book series.
Coles' new partnership is with best-selling author Andy Griffiths and illustrator Terry Denton and involves creating 24 Coles Little Treehouse books to collect.
From Wednesday 29 July, customers will be offered a free Coles Little Treehouse™ book with every $30 spent in one transaction at Coles Supermarkets, Coles Express and Coles Online.
"We wanted to find an engaging and sustainable way to bring joy and hours of entertainment to Aussie households," says Coles Chief Marketing Officer, Lisa Ronson.
"Our research found that while 83% of Australian households frequently encourage children to read, only 22% frequently purchase books for kids to read. As a supermarket we know we can reach millions of our customers every week with these fantastic little books to read and enjoy with their kids."
From Wednesday, Coles will also be launching its first-ever picture storybook competition encouraging Aussie kids to get creative and develop their own fictional book. There are great prizes to be won for students and their schools as well as thousands of book donations to schools and remote Indigenous communities through Coles' partnership with the Indigenous Literacy Foundation.
Every entry into the storybook competition equals one new book donated to a remote Indigenous community. The ILF helps to make a difference to the lives of Indigenous families in need by gifting thousands of new books to communities where there are no libraries or bookstores.
Each book in the Coles Little Treehouse™ book series has additional pages of activities and jokes for extra entertainment. The paper and packaging used to produce the books are FSC responsibly sourced and can be recycled at home like any paper product.