Coles is changing the way Australians shop for health food at the supermarket, in a move that will make healthier options more accessible in all grocery aisles as well as help make Coles "the destination" for sports nutrition, diet and superfoods products.
As part of its health transformation, specialty products traditionally found in the health food aisle such as gluten-free cereals, fodmap friendly soups, oils and nut spreads have moved to their respective aisles, making way for more than 150 new sports performance and health ingredients from some of Australia's best brands like Muscle Nation, Amazonia Raw and Botanika Blends to launch at Coles supermarkets for the first time.
The expansion of the health aisle comes as 'sports and diet' was identified as the fastest growing segment of Coles health foods aisle between 2014 – 2019 and it's showing no signs of slowing down as customer demand continues to grow for sports nutrition and protein products.
Among the overhaul of new products at Coles is a new brand – Coles PerForm – an affordable sports nutrition range of 16 protein powders and bars that are high in protein to help support growth of muscle mass.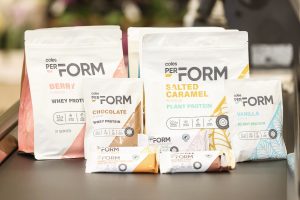 Made in Australia and available in both plant-based and whey-based protein, the range includes vanilla, chocolate, berry and salted caramel 35g protein powders for $2 each, bulk-size 750g protein powder for $30 each, and a range of 40g protein bars at $2 each.
Coles PerForm supplements and bar formulations are Sports Dietitians Australia approved, the retailer said.
The Coles PerForm range is also available in vacuum sealed fresh, frozen performance meals, "which are now enjoyed by the Essendon Football club, fuelling the women's football team with nutritious, high protein meals convenient after training sessions."
Coles General Manager for Grocery Leanne White said the transformation to Coles' health food aisle supports the growing customer demand for healthier products including sports performance products traditionally found at specialty stores.
"Our transformed health foods aisle is a giant leap towards delivering Coles' purpose to sustainably feed all Australians to help them lead happier and healthier lives," she said.
"We're seeing more and more customers look for healthier options or specific dietary requirements in the main grocery aisles – they no longer expect to go down one dedicated aisle to find these options.
"We're making health and performance products even more affordable at Coles with our new Coles PerForm range of protein powders, bars and frozen performance meals which are all approved by accredited nutritionists for those looking to take their fitness goals to the next level.
"With an expansive health aisle, we're aiming to target millennials and gen-z customers who are shopping at specialty stores or online for their sports nutrition and health ingredients by providing a convenient one-stop-shop at Coles."
New sports performance products include protein bars and custards from Muscle Nation – with Coles being the first retailer to launch the brand – 20 new protein products and pure creatine from Body Science (BSC), Macro Mike's powdered peanut butter and brownies mix, Dose & Co Marine Collagen and 180 Nutrition protein powder and bars.
New superfoods and specialty ingredients include Superfood Protein Ball Mixes from Mount Elephant and Melrose Superfood Powders and MCT Oils.
Coles PerForm range extends to frozen performance meals including 12 vacuum sealed fresh meals developed to offer great value, tailored nutrition to help achieve specific health and fitness goals under three sub-ranges of 'Build', 'Balanced' and 'Lean'.
Coles PerForm Build: nutritious high protein meals designed to help build muscle with 455 calories or more per meal. Flavours include Thai Red Curry Chicken, Satay Chicken and Cottage Pie.
Coles PerForm Balanced: nutritious meals for an active lifestyle with 10g of fibre or more per meal with vegan options available. Flavours include Yellow Chicken Curry, Italian Style Meatballs and Portuguese Style Chicken.
Coles PerForm Lean: nutritious meals designed to control calorie intake with 355 calories or less per meal and vegan options available. Flavours include Chicken Fajita, Tandoori Chicken and Lemon Pepper Chicken.