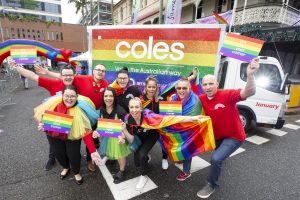 The retailer and team members across Queensland showed their support for the LGBTQIA+ community at Brisbane's Big Gay Day on Sunday. In addition to revealing a dazzling, pride-themed delivery truck, the retailer donated $10,000 to local LGBTQIA+ charities.
Big Gay Day is annual Brisbane street festival that celebrates Queensland's LGBTQIA+ community. Featuring musical acts and drag performances, the event raises vital funds for local charities, including The Queensland Aids Council, Brisbane Pride and Open Doors Youth Service.
Coles Chief Legal & Safety Officer, and member of the Coles Diversity Council, David Brewster says Coles was thrilled to show its support for LGBTIQA+ charities by again participating in the event.
"Big Gay Day is such an important celebration of pride, diversity and inclusion," he says.
"Visibility is important in our community, so we've permanently decorated one of our Coles Online trucks with the pride flag, to show our support for our LGBTQIA+ customers and team members."
The truck will continue to deliver pride and groceries to Coles Online customers across Queensland well after the festivities wrap up, with the bright pride-flag livery to remain, as visible show of support for the Queensland LGBTQIA+ community.
"As one of Australia's largest employers, have a responsibility to lead the way in workplace inclusion and diversity, and we're doing this by building a strong ally network for our LGBTIQA+ team members across the country," Mr Brewster says.
Coles is recognised as leader in LGBTIQA+ inclusion, recently winning an Australian Workplace Equality Index (AWEI) award and has company-wide inclusion programs encouraging its more than 120,000 team members to be their authentic selves at work.