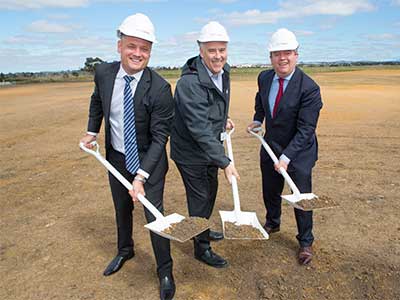 The fourth Victorian warehouse site chosen by Costco in nine years, at Epping in Melbourne, is set to open in 2018 and service a catchment of one million people.
At 13,788sqm, the store, which will be part of an extension of the Pacific Epping shopping centre, will be the second Costco in the state to feature a fuel station and is expected to create more than 250 full-time and part-time jobs.
Speaking at the launch of construction work, Costco Australia Managing Director Patrick Noone said Costco was excited to be launching its fourth Victorian warehouse and to be a part of the Epping community.
"We feel it's the perfect location for us, offering convenience for our rapidly expanding membership in this area," he said. "We look forward to being an integral part of the growth in Melbourne's north."
Mr Noone was joined at the ground-breaking ceremony by Victoria's Parliamentary Secretary for Small Business and Innovation Frank McGuire and Pacific Epping Chief Operating Officer Daniel Radle.
"We're thrilled to see the construction of Costco officially commence," Mr Radle said, "but none more so than the shoppers of Pacific Epping, who have eagerly and excitedly waited since the announcement of its planned arrival earlier this year.
"The introduction of Costco to the Pacific Epping area will no doubt enhance the retail offering and the centre's proposition of providing everything for the whole family in the one location. It's a major milestone for all involved and we look forward to seeing its effect once open mid next year."