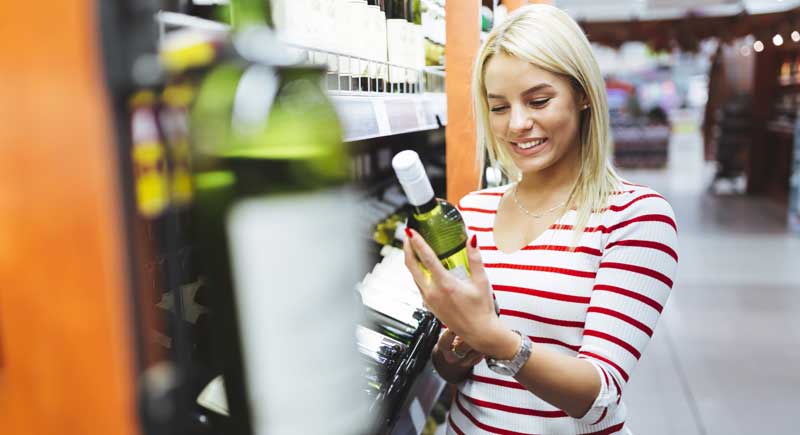 Where consumers buy their liquor
By David Burton.
Recent results from Wesfarmers, Woolworths and Metcash have demonstrated the worth of havinga dedicated liquor operation, with brands such as Dan Murphy's, BWS and Liquorland each performing strongly, or at least showing increased market penetration.
So it's no surprise that the Colmar Brunton Shopper Pulse for January records convenience as a major driver for liquor purchases among the panel.
Banners shopped include the usual Woolworths powerhouse brands of Dan Murphy's and BWS, and Wesfarmers' Liquorland and First Choice.
Fourteen per cent of shoppers polled said they frequented ALDI stores for alcohol purchases. In 2016, six ALDI wines were named in the top 100 bestsellers in Australia, so the discount retailer is hitting the mark with its liquor offer.
The Metcash-owned banners Cellarbrations, Thirsty Camel and The Bottle-O all featured in the survey responses.
IGA Liquor's percentage of shoppers using the brand could be expanded greatly, subject to licensing arrangements and owners' willingness to invest in liquor in some states. Restrictions prevent this occurring in others.
Dan Murphy's the go-to liquor retailer
Dan Murphy's, the retailer with the widest range of alcoholic beverages, traces its heritage back to 1952 when Daniel Francis Murphy was working in a store owned by his father, Timothy Murphy. The son set up his own store only a few hundred metres away and prospered significantly.
Dan Murphy's was acquired by Woolworths and a rapid rollout of stores has put the chain in a preeminent position when it comes to range, choice of 'hard-to-find' brands, and promotions.
Complementing the large footprint that Dan Murphy's stores offer is BWS, which can be found next to or near many Woolworthssupermarkets. This is what drives the convenience factor when it comes to selling liquor. When shoppers have completed their Woolworths grocery shop, conveniently they can take in BWS for decent beer (including craft beer), wine and spirits at competitive prices.
The Woolworths group has struggled of late, having divested its loss-making Masters hardware unit and taken a sales and profit hit at BIG W, but it has no such problems with its Endeavour Drinks Group, the recently renamed Woolworths liquor business, where it's all onwards and upwards.
As part of its strategy, Endeavour Drinks Group unit Pinnacle Drinks has a range of exclusive arrangements with wineries, brewers and distillers for brands that are sold exclusively through Woolworths businesses. As an example, Krondorf, a wine brand in existence since the 1880sfrom South Australia's Barossa Valley, is available only at Dan Murphy's, BWS and online through Cellar Masters.
Independent banners up for the fight
Sales through Metcash's IBA bannered network increased 6.1 per cent over the half-year from May to November 2016 according to the company's official results.
A consumer phenomenon in retail liquor has emerged with shoppers using the two major chains for cheap, discounted products and spending more on quality items at such outlets as Cellarbrations. Metcash's ALM division has benefited from this trend.
The January Shopper Pulse found that one-fifth of shoppers visited a supermarket or bottle shop for liquor once a week, while close to 60 per cent did so monthly.
The ALM division is a combination of supermarket liquor outlets covering IGA Liquor as well as dedicated liquor stores and  bottle shops attached to hotels.
While most IGA Liquor offers are positioned within or next to an IGA supermarket, there are examples ofthe brand being run as standalone liquor operations.
While only five per cent of the panel's shoppers said they used IGA Liquor, other Metcash-ownedbanners attracted panel penetration of between six and seven per cent.
So the Metcash ALM division is travelling well, although it is moving to reduce the number of its bannered stores – to ensure that those carrying an official IBA brand are up to standard. This way, shoppers looking for a quality offer will not be disappointed.
Coles needs more liquor sales
Coles' liquor division has been trading in the shadow of Woolworths for many years and was left to its own devices as Coles management engineered the renewal of the supermarket divisionwhen Wesfarmers acquired the business in 2009.
Four year ago, steps were taken to modernise IT operations at Liquorland and new management undertook a review of stores and range. There has since been gradual improvement in the Coles liquor business, which includes First Choice and Vintage Cellars.
In a recent move at Coles, what  many thought to be a new format emerged with a bright yellowbedecked liquor store at Ringwood in Melbourne. Coles has simply said the liquor-market test store was part of the "ongoing turnaround of our liquor business".
However, Coles has collected customer research and gained an insight into what shoppers would like from a liquor store, particularly in the Ringwood format.
Analysts say they believe Coles' plan is to start small and talk down its ambitions for the possible rollout of 'Liquor Market' until it can prove this concept is worthy of a major launch.
Reflections on the disastrous Masters hardware rollout at Woolworths will no doubt be a tempering guide to future action.
SA sought flexibility for supermarkets to sell local wines
The scrapping of a controversial 2013 proposal to allow the sale of bottled wine in South Australian supermarkets highlights the fact that established market participants want to protect their own segment.
The SA Government put forward the plans, but these immediately divided hoteliers, supermarkets and liquor outlets at the time.
Independents supermarkets led the push for supermarket sales, but other groups, including the Australian Hotels Association and independent bottle shops, campaigned strongly against the proposal.
Hotels or outlets owned by Coles or Woolworths sell the majority of alcohol in the state.
There have been no further plans to activate similar submissions to government and the status quo remains.
As an example of the angst caused at the time as the proposal appeared likely to be be accepted, John Swanson from Adelaide's Melbourne Street Fine Wine Cellars commented that supermarkets do not have the expertise or knowledge to sell wine.
The proposal would have involved the creation of a new type of liquor licence for supermarkets, with floor space of more than 400sqm. A number of prominent SA supermarket owners backed the scheme, while Foodland SA engaged a consultant to promote the concept with government.
For many supermarkets, the missed chance to sell locally made wine, in some cases from within a small radius of the store, is regarded as an opportunity lost. Not everyone can, or desires to, travel to a winery's cellar-door operation.
Liquor market trends
As supermarkets and bottle shops fight for market share, it must be sobering for many businesses that collective consumption of alcohol has dropped.
Australians are drinking less overall than any time in the past 50 years, according the most recent survey from the Australian Bureau of Statistics.
"Across all alcoholic beverages, there were 9.7 litres of pure alcohol available for consumption in 2013-14 for every person in Australia aged 15 years and over," ABS Director of Health Louise Gates said. "This is the lowest level since the early 1960s."
It should be noted that 2013-14 is the latest 12-month period for which the ABS has released data. Fifty years ago, beer made up three quarters of all alcohol consumed, but in the 2013-14 period reported on, it represented only 41 per cent.
Wine's share has increased over the same period from 12 per cent to 38 per cent.
The ABS figures for 2013-14 indicated Australians consumed more white wine than red: 270 million litres of white and 190 million litres of red. Full-strength remained the most popular type of beer, accounting for around three quarters of all beer sold in 2013-14.
"Over the past decade, we've seen the popularity of mid-strength beer grow at the expense of low-strength beer," Ms Gates said. "Mid-strength beer now makes up 19 per cent of all beer consumed in Australia, while low-strength beer accounts for five per cent."
Australia's wine industry achieved a successful showing in what is now its largest export market – mainland China – according to figures unveiled at the ProWine China 2016 event in Shanghai in November.
The Wine Australia Pavilion included 19 exhibitors showcasing around 200 wines from close to 30 brands, representing nearly 20 wine regions across five states.
Some of these brands are already in-market, while others are seeking distribution in China for the first time as Australian wineries seek to build on the positive momentum for their finest wines that is reflected in the latest export figures.
China became Australia's most valuable wine export market with exports to the country's mainland growing by 51 per cent to $474 million in the 12 months to September 2016. Just a decade ago, Australian wine exports to the
People's Republic were valued at only $27 million.
Contributing to the exceptional growth are the benefits of the China-Australia Free-Trade Agreement and the increased interest in wine among the growing Chinese middle class, with average consumption frequency of imported wine and the number of imported wine drinkers both on the rise.