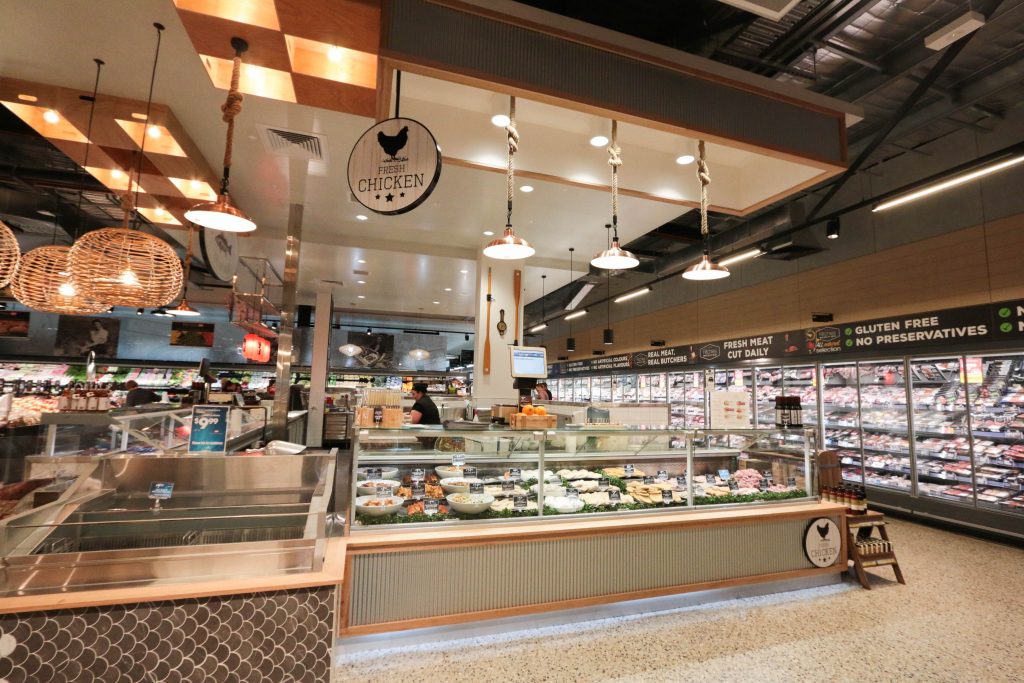 Ritchies IGA Rowville opened to the public in early December following a refurbishment of the previous store, writes Retail World Journalist Nicholas Rider.
The new design worked within the existing walls, with a floor space of about 2,600sqm. The fresh food area, however, was extensively reworked.
"Two full grocery aisles were removed from the store, which allowed us to expand the fresh food section considerably," Ritchies Stores National Marketing General Manager Jarrod Swaine said. "Fresh food (accounts) for around 45 per cent of the floor space now.
"The whole fresh food emporium was designed to give the shopper a market feel."
SMC Corporation Australia New Zealand's (ANZ) comprehensive range of vacuum components is focused on compressed air efficiency. Rather than spending thousands of Dollars upgrading systems, SMC can optimise your current system by replacing the existing vacuum components with efficient, state-of-the-art vacuum solutions.
Read More
He says the different fresh food departments carry their own "unique signage and character" as if they are individual shops.
Mr Swaine says that while Rowville is based on Ritchies' Mount Eliza and Dromana stores in the Melbourne area, the group has taken the concept further with a "whole lot more theatre involved in the design". Though many of the original departments remain, the look and feel of each has been upgraded to further enhance the range on offer.
The new store also introduces new features not included in previous stores, such as a Turkish delight selection offering 40 different types of the sweet treat, an extended hot food range, a giftware section and a large range of gourmet household kitchen lines to cater for at-home entertaining.
According to Mr Swaine, ready-to-eat meals have been a focus for Ritchies for some time now, and an extensive range of hot and cold meals in the Rowville store covers all meals and snacking occasions. A hot food case at the front of the store offers a range of Pie Face pies and sausage rolls, which he says have been a hit with locals, especially tradies, while the Sushi&Co kiosk has been a welcome addition to the store.
"In addition to this, a wall of T2 features prominently opposite the artisan bakery display," Mr Swaine said. "Catering for all our shoppers' bread needs, the artisan range boasts product from the likes of Noisette and Laurent, both bought in fresh daily. If you're looking for something sweet, then go no further than the patisserie, where you'll find a huge selection of cakes, macarons and slices."
Other theatrical touches include a display of whole fish presented on an ice bed in the front portion of a boat, while a tank next to this is stocked with local peninsula Mount Martha mussels.
Mr Swaine says a deli and cheese department "cries out for attention" as you enter the store, full of both everyday and gourmet meats, pastries, salads and antipastos. A large range of dips and prepacked cheese is available in the island case opposite the deli cabinets. Meat was previously cut off-site, but a meat room has been added as part of the refurb and is a huge standout, says Mr Swaine, featuring a serve-over and self-serve case predominately dedicated to aged beef.
"A large window looking into the agedbeef room complete with an illuminated
salt block wall has been of major interest to the Rowville customers," he said, "with
more orders being taken here than in any of the other Ritchies stores where this concept has been included.
"We even have shoppers who purchase a dry aged cut, take home a portion and leave the remainder to pick up at another time so the ageing process can continue."
Freshly squeezed orange juice and cold pressed juices are also made on-site
in the produce department, promising shoppers the freshest product available.
Additionally, the liquor store has been transformed, its range of chilled white
and sparkling wine and international wines extended, while the premium spirit
range is claimed to be the best available on this side of the city. The liquor store
also focuses heavily on Yarra Valley wines, incorporating three tasting zones.
To promote the opening of the store, Ritchies sent out a 24-page coffee-table booklet to 30,000 households. "This brochure was not about price," Mr Swaine said. "It was about the attributes of the store and the different products that are available."
A separate eight-page brochure was distributed at the same time to highlight the opening promotions, also attracting new shoppers to the refurbished store.