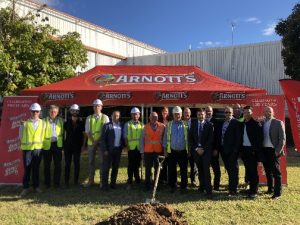 Daifuku BCS has been awarded a contract to develop a high capacity storage solution for Arnott's.
The storage will form part of Arnott's existing manufacturing site in Huntington NSW.
Project objectives
Currently the majority of Arnott's finished goods are held off-site, with the project set to not only increase Arnott's current on-site storage capacity but to also upgrade its existing infrastructure across automated warehouse systems.
This will include the implementation of Daifuku's unit load ASRS cranes, sorting transfer vehicles and goods to person stations for mixed case picking.
Design strategy
The design strategy will incorporate the construction of a contemporary automated ambient warehouse, along with the removal of the existing automation and installation of a second new temperature controlled warehouse within the existing enclosure.
The automation component of the project will be rolled out in two phases, with the first due live in October 2020 and the second in June 2021.
Globally, the biscuit market is doing well, with sales projected to reach US$135bn for the biscuit market by 2023 as a result of product innovation and increased demand for convenience food.
Blacktown Mayor Stephen Bali joined Ümit Subasi, President of Campbell International, VP Supply Chain Campbell International, Craig Funnell and Daifuku BCS CEO Shaun Roper to break ground for the development of the new storage facility.
Cory Saunders, Daifuku BCS General Manager of Logistic Sales, says the company began its engagement with Arnott's team in early 2018.
"Since then, it has been a highly collaborative process through many evolutions of the solution to get to this stage of the project; the whole team delighted to work with such a highly regarded Australian brand," said Mr Saunders.
The brand, now into its 154th year of operation, is one of Asia Pacific's largest food manufacturers, employing over 2,000 Australians nationwide.
Its exports are shipped to more than 40 countries around the world including Japan, the USA, Canada, United Kingdom, Indonesia, Tahiti and New Zealand.